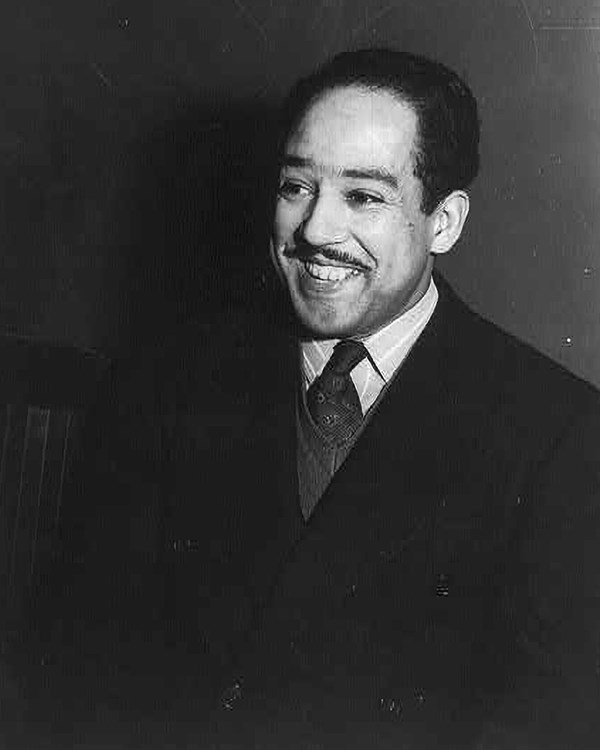 Significance:
Influential Author and Thinker of the Harlem Renaissance.
Place of Birth:
Joplin, Missouri
Date of Birth:
February 1, 1901
Place of Death:
New York City, New York
Date of Death:
May 22, 1967
Place of Burial:
New York City, New York
Cemetery Name:
Schomburg Center for Research in Black Culture
Poet Langston Hughes was born in Joplin, Missouri on February 1, 1902. His parents named him James Mercer Langston Hughes, but he went by Langston Hughes. His parents divorced shortly after he was born, and his father moved to Mexico. His mother traveled for work so Hughes spent most of his childhood in Lawrence, Kansas where he was raised by his grandmother.
His grandmother provided Hughes with stories and books which opened the world of literature to the young Hughes. Books became a place where he could find refuge in his childhood. After his grandmother's death, he returned to his mother in Lincoln, Illinois and eventually graduated high school from Central High School in Cleveland, Ohio where he was awarded class poet and editor of the yearbook.
After high school, he attended Columbia University in New York, but he left after spending a year there. He did not enjoy his experiences at Columbia, but he loved the community he found in Harlem, New York. His poetry was first published in the NAACP magazine The Crisis during this time, which gave him some national attention. Afterwards, he traveled to Africa and Europe as a crewmember aboard the boat SS Malone. He stayed in Europe for some time but eventually moved back to the US and published his first book The Weary Blues in 1926. A few years later, Hughes graduated from Lincoln University in Pennsylvania and returned to New York to pursue his career as a writer.
He went on to write poetry, plays, novels, and newspaper columns where his name became a fixture of the Harlem Renaissance, which celebrated African American culture and achievement. Hughes claimed that the people he met in his everyday life were the influences of his work, but blues and jazz were the rhythm of his work. This is evident in his poetry where he mentions everyday people in his community along with the poetic rhythms of jazz and blues.
Hughes died on May 22, 1967 but his legacy lives on in his collection of literary works.
Last updated: July 26, 2022