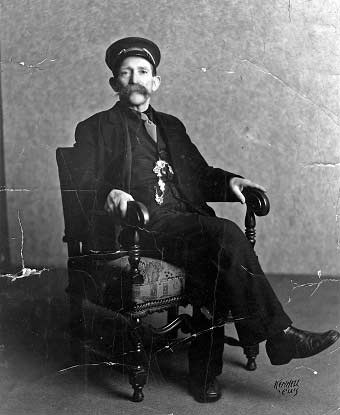 Significance:
Early tourism promotor, inventor
Cemetery Name:
Gold Rush Cemetery
Martin Itjen arrived in Skagway, Alaska in 1898, on his way to the Klondike gold fields. Born in Europe, he was living in Jacksonville, Florida when the local newspaper boasted headlines of gold discovery in the far north Yukon. He ventured to the shores of Skagway, learning along the way of requirements set by the Canadian Mounted Police to carry 2,000 lbs. of food and provisions over the coastal mountain range and continue another 600 miles north to Dawson City. Skagway was a boom town with a rapidly flourishing economy. Upon his arrival there, Martin decided to postpone his plans to continue to the goldfields and took a job with the White Pass Yukon Route Railroad as a track layer.
Over the next few years, Martin tried his hand at several other endeavors. He served as the town's first undertaker, worked as a carpenter, and delivered coal. In 1902, Martin and his wife Lucille, opened the Bay View House, which was a hotel room built onto a scow. It was an original structure, near the Moore's wharf where lodgers could rest for $.25 a night.
During the 1910s through the 1930s, tourism began streaming into the Alaskan coast. More and more tourists replaced gold seekers, making the journey to see the natural beauty. Martin greeted the town's visitors down by the marina offering a guided town tour complete with his personal accounts of the Days of '98. His love of the automobile and the tourist industry evolved together to form the Skagway Streetcar Company. He developed a narrated tour that kept stories of the Grand Adventures of the Gold Rush alive. He published a booklet to accompany the tour complete with Itjen original poetry:
If you're going to the Klondike I'll tell you what to do,
Be sure you take a ton of grub,
Or better yet, take two.
For you'll find that you'll be hungry,
Morning, noon and night,
And you'll soon have what the people
Call a Klondike appetite.
Business went very well for Martin as he shared the lore of Skagway with his wit and humor. He built four streetcars over the course of his life, each a little different than the other. On the exterior of one of his vehicles, he attached a small mechanical bear he had created himself. When Martin took a right hand turn, the bear would signal by lifting his right paw, same to the left. A life-size mannequin of con man, Soapy Smith, stood on the back of one of the streetcars with a large cigar in his mouth. Martin rerouted the vehicle exhaust to come up through Soapy's body and out the cigar. Martin used these novelties added excitement to his tours, which cost .50 cents and lasted 2 hours.
In 1935, Martin embarked on a well-documented road tour in one of his street cars along the west coast. He met famed actress Mae West in Hollywood and gained national media attention. He showcased his street cars and shared stories of his gold rush adventures in Skagway. Upon his return Martin continued operating the Skagway Streetcar tours and a year later began early restoration of Jeff. Smiths Parlor Museum. The museum was a celebrated stop on the streetcar tour and preserved gold rush era memorabilia that is still in existence today. Martin Itjen is remembered as the premier leader of Skagway tourism and remained a tireless Gold Rush promoter until his death in 1942.
Last updated: October 26, 2021