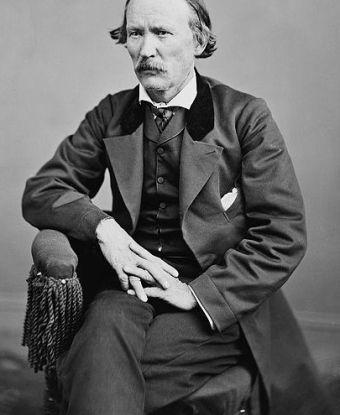 Significance:
Guide and United States officer in the Trans-Mississippi Theater
Place of Birth:
Madison County, KY
Date of Birth:
December 24, 1809
Place of Death:
Fort Lyon, CO
Date of Death:
May 23, 1868
Place of Burial:
Taos, NM
Cemetery Name:
Kit Carson Cemetery
Christopher "Kit" Carson was born in Madison County, Kentucky on December 24, 1809, the sixth of ten children. Carson received little to no formal education and remained nearly illiterate his entire life. After two years as apprentice to a saddle and harness maker, in 1826 Carson joined a wagon train on its way to Santa Fe, New Mexico. He became a Mountain man and trapper, exploring the west to California and north through the Rocky Mountains, achieving national fame as a guide for John C. Fremont.
During the Mexican War, Carson served as a scout and courier, further cementing his national reputation leading General Stephen Kearny from the New Mexico Territory to California. After the war he served as an agent for the Office of Indian Affairs for the northern New Mexico Territory. At the outbreak of the Civil War, Carson sided with the Union, helping to organize the 1st New Mexico Volunteer Infantry and was appointed its lieutenant colonel. He saw action against the Confederates at the Battle of Val Verde and again at Glorieta Pass. In 1863, Carson was ordered to relocate Native Americans in New Mexico to distant reservations established by the government, an assignment he refused, tendering his resignation.
However, his resignation was not accepted and by the spring of 1864, Carson had forced the surrender of the Navajo and 8,000 men, women and children were forced to march or ride 300 miles from Fort Canby to Fort Sumner, New Mexico. An estimated 300 Navajo died on this journey, known as "The Long Walk." In 1865 Carson was given a commission as brigadier general and cited for gallantry and distinguished service. By 1867 he was mustered out of service and took up a career as a rancher. Kit Carson died of an abdominal aortic aneurysm at For Lyon, Colorado on May 23, 1868 at the age of 58.
Last updated: July 3, 2023