Judson Kilpatrick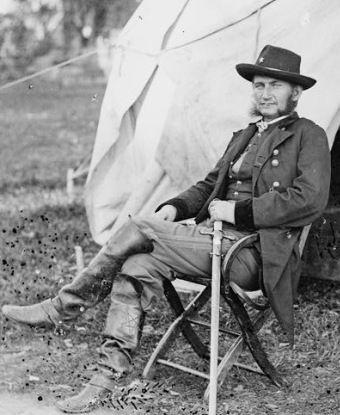 Quick Facts
Significance:

Union cavalry commander

Place Of Birth:

Wantage Township, near Deckertown, NJ

Date Of Birth:

January 14, 1836

Place Of Death:

Santiago

Date Of Death:

December 4, 1881

Place Of Burial:

West Point, NY

Cemetery Name:

West Point Cemetery
Hugh Judson Kilpatrick, more commonly referred to as Judson Kilpatrick, was born on his family farm in Wantage Township, near Deckertown, New Jersey. Kilpatrick graduated from the United States Military Academy in 1861, just after the start of the Civil War, and was commissioned a second lieutenant in the 1st U.S. Artillery, though within three days he was a captain in the 5th New York Infantry.

Less than two months after graduation from West Point, he became the first regular army officer to be wounded in battle during the fight at Big Bethel, Virginia on June 10, 1861. Recovering from his wounds, he returned to service as lieutenant colonel of the 2nd New York Cavalry and quickly he rose through the ranks to become a brigadier general by June 1863. Though aggressive and fearless in battle, Kilpatrick had a poor reputation within the Union army due to his use of political influence for advancement, the poor manner in which he maintained his camps, his frequent run-ins with the law. Despite, this, Kilpatrick served with distinction in the Battle for Beverly's Ford, Stoneman's Raid, and the Battle of Gettysburg.

In April 1864 after his attempted raid on Richmond, Virginia, he was sent to take charge of a division of Sherman's cavalry in the Western Theater. During the Atlanta campaign he was badly wounded at the Battle of Resaca and was forced to sit out the rest of the war guarding Sherman's communications and commanding the Union forces during the skirmishes at Lovejoy's Station and Buck Head Creek. In June 1865, after the end of the war, he was brevetted major general. He resigned both of his commissions in December 1865.
Last updated: June 18, 2015