Person
Jubal Anderson Early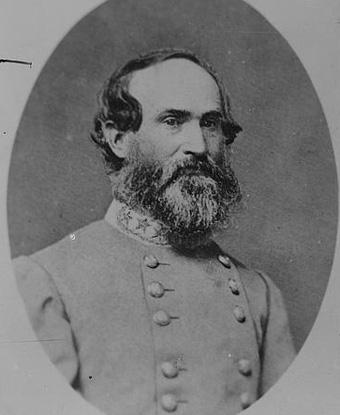 Significance:
Confederate Major General
Place Of Birth:
Franklin County, VA
Date Of Birth:
November 3, 1816
Place Of Death:
Lynchburg, VA
Date Of Death:
March 2, 1894
Place Of Burial:
Lynchburg, VA
Cemetery Name:
Spring Hill Cemetery
From the Peninsula to Maryland: Early's role in the summer of 1862
Jubal Anderson Early was a native Virginian and member of the Whig party who did not particularly support secession. However, when President Lincoln called for 75,000 volunteers to support the Union in 1861, he was moved to defend the South.
Having graduated from the United States Military Academy in 1837 and with previous military experience fighting the Seminole Wars in Florida, Early rose quickly through the ranks of the Confederate army. He was supported by Lee, who affectionately called him the "Bad Old Man" because of his temper. This temper made him an apt commander, but it did not make him popular amongst his subordinate officers, of whom Early was extraordinarily critical.
Serving in Virginia for most of the war, he was involved in all the Army of Northern Virginia's major engagements from 1862 to 1864. Early was wounded at Williamsburg in 1862 while leading a charge and spent the next two months recuperating at his home in Rocky Mount, Virginia. After his wounds had healed he returned to the war, under the command of Jackson, in time for the Battle of Malvern Hill. There, Early was unable to efficiently navigate and his brigade was lost in the woods, missing any significant action.
In the Northern Virginia Campaign, Early was noted for his performance at the Battle of Cedar Mountain and arrived in the nick of time to reinforce Major General A.P. Hill on Jackson's left on Stony Ridge in the Second Battle of Manassas (Bull Run). At Antietam, when Early's division commander was wounded, he took command of the division. Lee was so impressed after his performance during the battle that he kept Early on as a division commander.
After his successful counterattack in response to George Meade's advance at the Battle of Fredericksburg, Early was again promoted, this time to Major General, on January 17, 1863. Early's ascendency continued as a result of his performances in the 1864 Overland Campaign and the Shenandoah Valley Campaign. In the Shenandoah Valley Campaign Early mounted the Confederacy's last invasion of the North, driving Union forces westward and ultimately threatening Washington, D.C. before being turned back at the Battle of Fort Stevens. In the war's final months, however, Early suffered a string of defeats, some of which included the Battle of Winchester, the Battle of Fisher's Hill, the Battle of Cedar Creek, and the Battle of Waynesboro. He was eventually relieved of command by Lee in March of 1865.
After the war Early moved abroad, attempting to escape charges of treason for his role in defending the Confederacy until he was pardoned by President Johnson in 1868. He then returned to Lynchburg, Virginia where he returned to practicing law until his death in 1894.
Last updated: June 17, 2015