Person
Joshua Chamberlain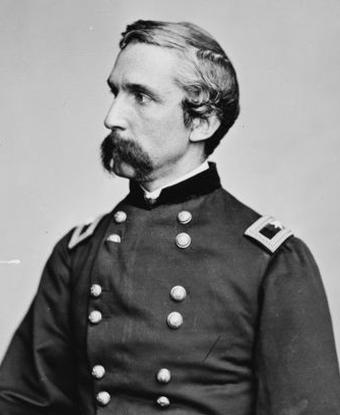 Significance:
Union general in the Eastern Theater and Medal of Honor recipient
Place of Birth:
Brewer, ME
Date of Birth:
September 8, 1828
Place of Death:
Portland, ME
Date of Death:
February 24, 1914
Place of Burial:
Brunswick, ME
Cemetery Name:
Pine Grove Cemetery
Growing up, Joshua Lawrence Chamberlin had a great love for everything military due to his ancestors' service in the American Revolution, War of 1812 and Aroostook War. He graduated from Bowdoin College in 1852, where he returned in 1855 to join the faculty and begin a successful career as a professor of languages and rhetoric.

However, the outbreak of the Civil War weighed heavily upon Chamberlain, who desperately wanted to serve his country. When he was subsequently granted a leave of absence to study abroad, Chamberlain promptly enlisted in the Union army, unbeknownst to those at the college or his family. He was appointed Lieutenant Colonel of the newly raised 20th Maine Infantry and studied everything military under the regiment's colonel, Adelbert Ames. Chamberlain and the 20th Maine were present at the Battle of Antietam, but did not participate in the battle; suffered relatively minor casualties in the assault on Marye's Heights at the Battle of Fredericksburg; and were relegated to guard duty at Chancellorsville to a smallpox outbreak in the regiment.

In May 1863, upon the promotion of Ames, Chamberlain was promoted to colonel and given command of the regiment. At the Battle of Gettysburg on July 2, 1863, holding the far left of the Union line and low on ammunition, Chamberlain ordered the 20th Maine forward in a bayonet charge at Little Round Top, dislodging and capturing over 100 Confederate troops and securing the tenuous Union position. This action earned Chamberlain the sobriquet "Lion of Little Round Top" and the Medal of Honor for "daring heroism and great tenacity in holding his position on the Little Round Top against repeated assaults."

In June 1864, at the Siege of Petersburg, Chamberlain, now in command of a brigade, was gravely wounded in the hip and groin. He survived his wounds, however, and returned to the field in November 1864, now as a brigadier general. During the war's closing chapter at Appomattox, Chamberlain was selected to receive the Confederate surrender of arms, during which he ordered his men to attention as the Confederates passed, as a sign of respect for their defeated foe.

After the war, Chamberlain returned to Maine, and, riding his wartime popularity, served four terms as the state's governor. He later served as president of Bowdoin College from 1871-1883. He spent his later years writing and speaking about the Civil War. His death in 1914 was attributed to his Petersburg wounds, making him the last Civil War veteran to die of his war wounds.
Last updated: July 7, 2016