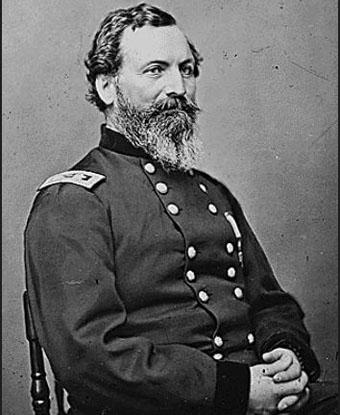 Significance:
Highest ranking Union casualty of the Civil War
Place Of Birth:
Cornwall Hollow, CT
Date Of Birth:
September 13, 1813
Place Of Death:
Spotsylvania, VA
Date Of Death:
May 9, 1864
Place Of Burial:
Cornwall Hollow, CT
Cemetery Name:
Cornwall Hollow Cemetery
From the Peninsula to Maryland: Sedgwick's role in the summer of 1862
John Sedgwick, or as many of his men called him "Uncle John", was one of the most significant division and then corps commanders in the Union Army of the Potomac during the Civil War. A graduate of West Point, Sedgwick quickly rose to the rank of Brigadier and later Major General in the Union army. This was largely due to his previous military experience; he had served in the Mexican-American War, the Seminole War, and other Native American conflicts through the 1850's.
"Uncle John" was a born leader who, early in the war, established himself as one who commanded not only men, but also their respect. When the war began Sedgwick first served as acting inspector general for the city of Washington DC before being promoted to Brigadier General in August of 1861. He led a division in Maj. Gen. Edwin Sumner's Corps during the Peninsula Campaign, during which he was wounded in the arm at the Battle of Glendale on June 30, 1862.
During the Maryland Campaign, Sedgwick commanded a division in the newly reorganized Army of the Potomac. At the Battle of Antietam, Sedgwick's division played a key role in the first phase of the battle. II Corps commander Maj. Gen. Edwin V. Sumner sent Sedgwick's division in a mass assault toward Jackson's lines without first engaging in an effective reconnaissance of the field. As a result Sedgwick's division took heavily Confederate fire from three sides as they advanced, resulting in extensive causalities.
Sedgwick himself had his horse was shot out from under him and was his three times, in the wrist, leg, and shoulder. He had to be carried off the field after being rendered unconscious by his wounds, and spent the next 90 days recovering before returning to the army after the Battle of Fredericksburg.
When Sedgwick returned to duty, he was promoted to corps command, eventually settling on the VI Corps, which he commanded for the remainder of his life. His Corps took part in the fighting at Chancellorsville, Gettysburg, and the Overland Campaign. On May 9th, 1864 Sedgwick was killed by Confederate artillery fire at Spotsylvania Courthouse shortly after commenting that his position was out of range of the Confederate gunners. His death earned Sedgwick recognition as the highest ranking Union officer to be killed in the war. When the news of Uncle John's death reached General Grant, his response was, "is he really dead?"
Last updated: June 17, 2015