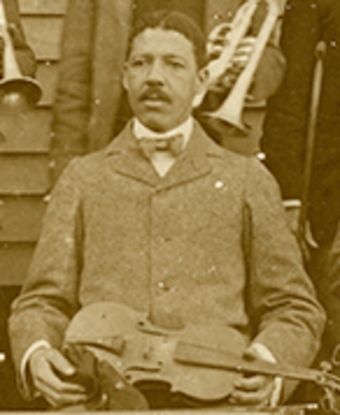 Significance:
Early Jazz Band Leader
Place of Birth:
Thibodaux, Louisiana
Date of Birth:
January 16, 1866
Place of Death:
New Orleans, Lousiana
This native of Thibodaux, Louisiana (southwest of New Orleans) apparently began his career at age 25 playing bass drum in the city's Excelsior Brass Band (ca. 1891). Little documentation exists concerning his musical training or involvement prior to that time. Robichaux began leading his own ensemble in 1893, and became the most continuously active dance-band leader in the Crescent City from that year until his death.
The Robichaux Orchestra played Lincoln Park and other spots as a rival of Charles "Buddy" Bolden's band. They also served as the pit orchestra at the city's black vaudeville showplace, the Lyric Theatre, for more than a decade before it burned in 1927. That establishment provided the theme for the hit musical production, "One Mo' Time." "Professor" Robichaux's ensemble also worked the city's historic La Louisiane Restaurant.
Last updated: September 21, 2019