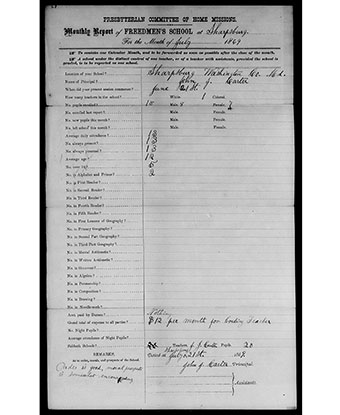 Place of Birth:
Pennsylvania
Place of Death:
King William County, Virginia
John J. Carter was one of hundreds of African Americans who left their homes in the North after the end of the Civil War to teach freedpeople in the Southern and border states. Born in Pennsylvania, Carter taught in African American schools in Virginia and Maryland from 1868 until his death in 1888.
Carter was born in 1843 in Pennsylvania. At age 23, he joined the first freshman class at Lincoln University in Oxford, Pennsylvania. The school was established in 1854 as the Ashmun Institute for the purpose of educating African American men. In 1866, it changed its name to Lincoln University, in honor of the recently deceased President Abraham Lincoln, and added a collegiate course of study.
After just one year, Carter was promoted directly from the freshman class to the junior class. In the summer after his junior year, he taught for two months in a freedpeople's school in the small town of Aylett in eastern Virginia. The Freedmen's Bureau (the federal Bureau of Refugees, Freedmen, and Abandoned Lands) assigned him to the school and paid rent on the church building where he taught.
Carter graduated from Lincoln University in 1869 and almost immediately accepted another teaching assignment from the Freedmen's Bureau. With financial support from the Presbyterian Home Mission, Carter traveled to Sharpsburg, Maryland to teach a school located in an African American church known as Tolson's Chapel Soon after arriving in Sharpsburg, Carter expressed disappointment with his assignment, partly because of the small size of the school. In November 1869, the Freedmen's Bureau re-assigned him to the school in Aylett, Virginia. In both Sharpsburg and Aylett, the Presbyterian Home Mission paid his salary, and the local African American community provided him with room and board.
The Freedmen's Bureau ended its support for African American schools at the beginning of 1870, but the Presbyterian Home Mission continued to pay Carter's salary until July. Later that year, Virginia opened racially segregated public schools. Carter was likely one of the two black male teachers in the public schools for African Americans in his district in the 1870-1871 school year. Lincoln University alumni records show that he earned a maste­r's degree in 1872, but it is not known where he completed his graduate studies.
With a job in the public school system, Carter settled in Virginia for good. He married in 1872, and he and his wife, Virginia, had six children. In the summer of 1880, he served as census enumerator, probably as a way of earning money during the break between school years. He died in 1888.
Other notable people connected to Tolson's Chapel include David B. Simons, and Hilary and Christine Watson.
Last updated: June 22, 2021