Person
John Graves Simcoe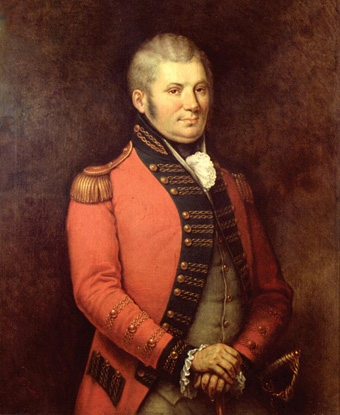 Significance:
Canadian leader
Place of Birth:
Cotterstock, England
Date of Birth:
February 25, 1752
Place of Death:
Exeter, England
Date of Death:
October 26, 1806
John Graves Simcoe served as the first Lieutenant Governor of Upper Canada, from 1791 to 1796, and was significant in shaping the nation. He named many prominent Canadian natural features and towns, established the capital city of York, and was instrumental in establishing the governance of Canada, including restricting the slave trade in 1793, leading to its total abolition in 1810: full 24 years earlier than it was established throughout the British Empire, and 72 years before it was abolished in the United States.
John Graves Simcoe was the only surviving son of Katherine and John Simcoe, a Royal Navy officer. Educated at Eton College and Oxford University and demonstrating a great talent for academics, John Graves ultimately followed in his father's footsteps by pursuing a military career. He enlisted in the 35th Regiment of Foot in 1770 and was sent to the American colonies. There, Simcoe fought in several battles of the American Revolution, including the Siege of Boston, the Battle of Brandywine, and the Siege of Yorktown.
The experience of fighting against the American Patriots, and subsequently Britain's decision to end the war and grant independence to the United States left a permanent bad taste in Simcoe's mouth. For the rest of his career, Simcoe would hold on to a poor opinion of Americans. Upon returning to England following the war, Simcoe was promoted to Lieutenant-Colonel, and married Elizabeth Posthuma Gwillim. Together they had five children.
In 1791, the young family relocated to the newly established Upper Canada, where Simcoe was appointed Lieutenant Governor. Simcoe was eager to establish a British Utopia in what he perceived as an otherwise savage continent, built upon British law and government. Simcoe initiated a land grant program enticing loyalist Americans to settle in Upper Canada to increase its population and productivity, although he remained distrustful of the emigrants.
Realizing the tension between the United States and Great Britain would only grow, Simcoe began preparations for war as early as 1794. He supplied Indian allies with weapons, fortified the fleet on the Great Lakes, and established a capital further inland at the Indian settlement of Toronto, renaming it York after King George III's second son, the Duke of York.
Poor health sent Simcoe back to England in 1796, and resulted in his resignation as Lieutenant governor in 1798. After a few minor commissions, Simcoe was appointed commander-in-chief of India in 1806, the most prestigious foreign posting at the time, but Simcoe died before setting sail for his new position.
Last updated: June 17, 2015