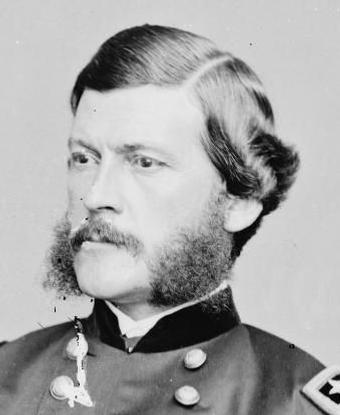 Significance:
Union infantry commander
Place Of Birth:
Chester County, PA
Date Of Birth:
September 22, 1827
Place Of Death:
Washington, DC
Date Of Death:
December 16, 1900
Place Of Burial:
Philadelphia, PA
Cemetery Name:
Church of St. James the Less
John Grubb Parke was a career U.S. Army officer, West Point graduate and surveyor who led a number of important mapping expeditions in the American west before the outbreak of the Civil War. Parke began the war as a captain in the topographical engineers, but quickly advanced.
After commanding a brigade in Ambrose E. Burnside's expedition to North Carolina in the summer of 1862, Parke was promoted to major general of volunteers and placed in command of a division in the IX Corps. He was then appointed IX Corps' Chief of Staff, then division commander after the death of Isaac P. Rodman at Antietam, then Chief of Staff once more.
When IX Corps shifted to the Western Theater, Parke became IX Corps' commander for a brief time during the advance on Vicksburg. Ambrose E. Burnside was commanding IX Corps when it returned from the west in early 1864, but Parke replaced Burnside after the fiasco during the Battle of the Crater. Parke retained command of IX Corps until March 1865 but finished the war as commander of XXII Corps and the District of Alexandria.
Following the war, Parke resumed his surveying career in the regular army. He was promoted to lieutenant colonel in 1879, then colonel in 1884. He served as Commandant of West Point from 1887 until his retirement in 1889.
Last updated: June 17, 2015