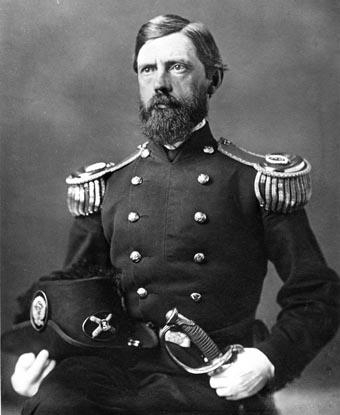 Significance:
Division Commander in Union Army of the Potomac
Place of Birth:
Lancaster, PA
Date of Birth:
September 20, 1820
Place of Death:
Gettysburg, PA
Date of Death:
July 1, 1863
Place of Burial:
Lancaster, PA
Cemetery Name:
Lancaster Cemetery
John Fulton Reynolds was a career US Army officer, who served in the Mexican-American War, the Utah Expedition, and other campaigns related to Native American conflicts. He also taught as an instructor at the US Military Academy at West Point until the outbreak of the American Civil War. After being assigned to brigade command in the Pennsylvania Reserves, Reynolds briefly served as military governor of Fredericksburg, Virginia during the spring of 1862 before leading his brigade in the Seven Days Battles around Richmond. Reynolds was captured by the Confederates after the Battle of Gaines' Mill and placed in Libby Prison, but was exchanged on August 13, 1862, just before the Second Battle of Manassas (Bull Run).
When he returned to the army, Reynolds was elevated to command of the Pennsylvania Reserves Division since its commander, Brig. Gen. George A. McCall, had himself been captured only two days after Reynolds.
Since the V Corps (in which Reynolds served) had been detailed to support John Pope's Army of Virginia, Reynolds was present at the Second Battle of Manassas. On the second full day of the battle, even as most of the Union forces were retreating, Reynolds led his men in a final determined counterattack on Henry Hill. This action proved crucial in giving the Union Army time to retreat and avoid destruction.
Following the Second Battle of Manassas, Pennsylvania Governor Andrew G. Curtin requested that Reynolds be pulled away from the Army of the Potomac to command the Pennsylvania Militia. Consequently, during the Maryland Campaign, Reynolds was stationed in Pennsylvania drilling the home guard and missed the Battle of Antietam.
Reynolds returned to the Army of the Potomac in time to lead his division in the battles of Fredericksburg and Chancellorsville. On July 1, 1863, as he led his First Corps into line on McPherson Ridge to stop the Confederate advance toward Gettysburg, Pennsylvania, Reynolds was shot in the head by a Confederate sharpshooter, killing him instantly. Command passed to his senior division commander, Maj. Gen. Abner Doubleday. Reynolds was the highest ranking officer on either side killed at Gettysburg. 
Last updated: November 25, 2018