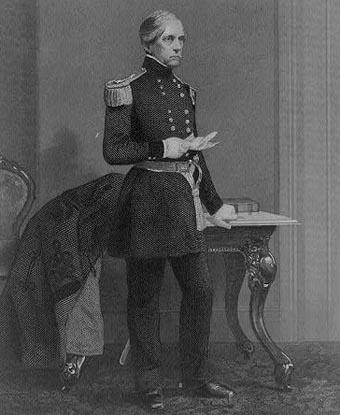 Significance:
Union Major General
Place Of Birth:
Newburgh, NY
Date Of Birth:
February 29, 1784
Date Of Death:
November 10, 1869
Place Of Burial:
Troy, NY
Cemetery Name:
Oakwaood Cemetery
From the Peninsula to Maryland: Wool's role in the summer of 1862
John Ellis Wool was the oldest officer actively serving in the United States Army during the Civil War. His military career spanned more than 50 years, beginning when he organized a volunteer brigade in 1812 and became the Captain of the Thirteenth United States Infantry. He served as the Inspector General for the entire army for several years until in 1832 he was sent to Europe to study other nations' military systems. In 1836, he took charge of driving the Cherokee Nation west over the "Trail of Tears" and in 1838 led a survey of the Maine/Canadian border to ensure defenses in case the difficulties in Canada at that time began to spread into the United States. By 1841 Wool had risen to the rank of Brigadier General.
Wool organized troops in the West and was given credit by General Zachary Taylor for many of the successes during the Mexican-American War. Between this time and the Civil War, Wool continued to command divisions of the army and lead expeditions as assigned. At the outbreak of the Civil War, he organized and equipped the first regiments sent from New York to defend the nation's capital. He secured Fortress Monroe for the Union in 1861 and was promoted to Major General in May 1862.
During the Maryland Campaign, Wool was in Baltimore in charge of the Middle Department. Uncertain of what Confederate General Robert E. Lee was planning, on September 5, 1862 he ordered Colonel Dixon S. Miles, commander of the Harpers Ferry garrison, to "be energetic and active, and defend all places to the last extremity... There must be no abandoning of post, and shoot the first man that thinks of it." Despite those orders, Harpers Ferry would fall into Confederate hands ten days later.
Upon his retirement in 1864, he was the fourth ranking general in the United States. He died at in 1869 at the age of 85. A painting of him, circa 1858, is on display at the National Portrait Gallery.
Last updated: June 18, 2015