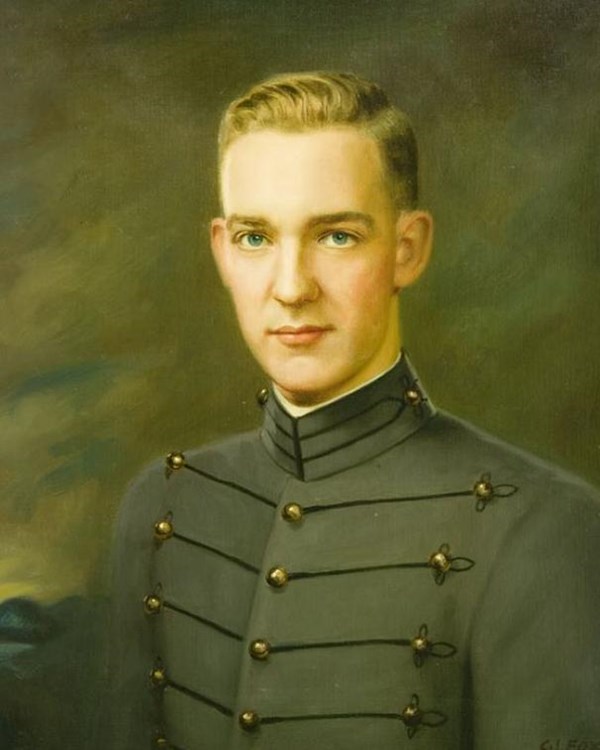 Significance:
Second Child of Dwight and Mamie Eisenhower, and only child to live to adulthood
Place of Birth:
Denver, Colorado
Date of Birth:
August 3, 1922
Place of Death:
Trappe, Maryland
Date of Death:
December 21, 2013
Place of Burial:
West Point, New York
Cemetery Name:
West Point Cemetery
John Sheldon Doud Eisenhower was born on August 3, 1922, in Denver Colorado. The second son and only surviving child of Dwight David Eisenhower and his wife Mamie, John's life was shaped by the career of his famous father.
When John was born, Dwight and Mamie were still mourning their first child, a young boy named Doud. Nicknamed "Icky", Doud died of Scarlet Fever on January 2, 1921, at the age of three. While he was not their only son, he was the one who lived a full life, one that much like his father was dedicated to the service of his country.
John grew up in the lifestyle typical of military families, which meant frequent moves and long periods separated from his father. At the time of John's birth, his Dwight Eisenhower was stationed in Panama. The hot and humid tropical conditions in Panama with limited medical care greatly concerned the Eisenhowers. Mamie decided that it was better to stay with her parents in Denver and deliver the baby with access to better health care.  
Over the course of John's childhood, the family moved across the United States and the world. In 1928 the family was stationed in France so Ike could work on a guidebook dedicated to the battlefields of the First World War. There, John not only attended school but traveled with his family around Europe. In the 1930s, the Eisenhowers settled in Washington D.C., though afterwards Ike—then Major Eisenhower—was sent to the Philippines. Mamie and John remained in the United States for a year to allow John to finish the 8th grade. Once the family was reunited, John enrolled at the Bishop Brent School in Baguio, where he graduated high school.
Graduating from high school is a pivotal moment for any young person, and as John Eisenhower stood at a crossroad in his own life, so too did the rest of the world. On the eve of World War II, as the world descended into another global conflict, John Eisenhower made the fateful decision to follow in his father's footsteps and attend West Point. He entered as a cadet in 1941, just months before the U.S. entered the Second World War.
John and his fellow classmates had a much different experience then Ike's generation. These cadets trained and studied knowing their country was at war. They became the class of 1944, graduating a year early as the need for officers in the field grew more urgent. Their graduation date was set for June 6.  Little could John and his fellow cadets have guessed they would share their graduation date with one of the most vital dates in the war, the Allied invasion of Normandy, known today as D-Day.
After John's graduation, his entry into the army came with its own set of difficulties. Lieutenant John Eisenhower was given leave to spend time with his father in France, but he hoped thereafter to serve as an infantry platoon commander. This hope was soon dashed as concerns arose over what would happen to Ike if John should be captured or killed during the conflict. John spent the remainder of the war away from the frontlines, working in intelligence and administrative duties in England and Germany.
After the war in 1947, John Eisenhower married Barbara Thompson, daughter of Col. Percy Walter Thompson. The couple went on to have four children, David (b.1948), Anne (b.1949), Susan (b.1951) and Mary Jean (b.1955.)  John earned a master's degree in English and comparative literature from Columbia University before teaching English at West Point, though global events called him back into active service.
John returned to active duty during the Korean War, seeing combat for the first time. It was during the Korean War that his father's life would take a second dramatic turn and once again change the trajectory of his own.
While John was fighting in Korea, Ike was campaigning for the presidency. Having already survived one war as the son of prominent general, now John was faced with the very real possibility of serving while being the son of the president of the United States. This led to a very frank conversation between father and son where the two came to an understanding that John could never be captured alive. John accepted the fact that he would have to take his own life rather than become an instrument of blackmail in the event of his capture. Later in life John expressed a strong opinion that children of active presidents should not serve in combat zones.
After Korea, John worked in his father's presidential administration. He served as Assistant Staff Secretary in the White House, on the Army's General Staff, and in the White House as an assistant to General Andrew Goodpaster. In 1958, John Eisenhower purchased a small property close to his parents' farm outside of Gettysburg so his children could be close to their grandparents when they left the White House.
During his father's retirement, John acted as an aid to his father while General Eisenhower wrote his two presidential memoirs. He retired from the Army as a lieutenant colonel in 1963, though he eventually achieved the rank of a brigadier general in the Reserves. John eventually sold his home in Gettysburg and became a part of the Nixon administration, serving as ambassador to Belgium from 1969 to 1971. President Nixon later appointed John Chairman of the Interagency Classification Review Committee. In 1975, he served President Gerald Ford as chairman of the President's Advisory Committee on Refugees.
In addition to his career in the military and the government, John also had a passion for history. He was a prolific writer, publishing ten military history books. His first book The Bitter Woods, a study of the Battle of the Bulge, came out in 1969. He continued to write about the Second World War, the Mexican American War, as well as memoirs of his life and relationship with his famous father.
For many years, John held the title of the oldest living presidential child and used that status to occasionally remark on the political climate of the time. John Eisenhower passed away at his home in Trappe Maryland in December of 2013 at the age of 91. He is buried in the West Point Cemetery. 
Last updated: December 8, 2022