Person
John and Viola Carroll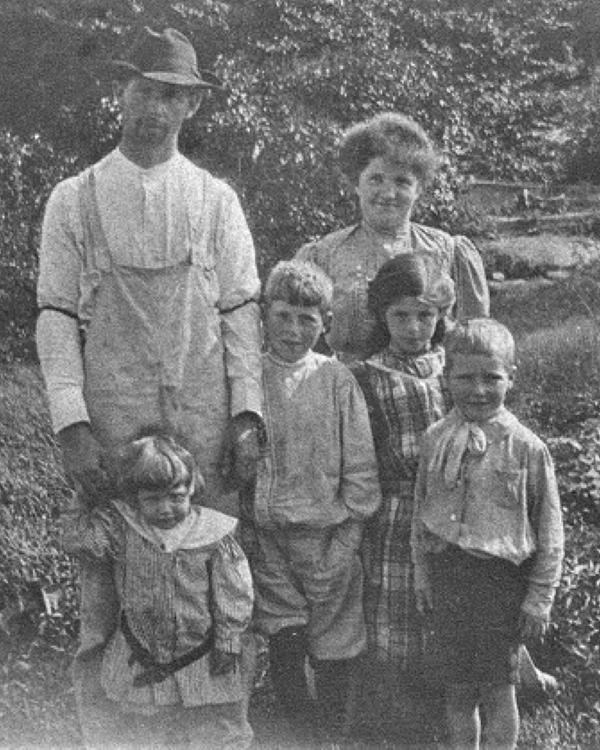 Significance:
Third generation who lived at Carroll Homestead
Place of Birth:
Mount Desert Island, Maine
Place of Burial:
Southwest Harbor, Maine
Cemetery Name:
Southwest Harbor Cemetery
When Jacob Carroll died in 1899 at the age of 69, his eldest son John took over the farm. The third generation to live at the Carroll Homestead from 1900 to 1917 and would rely on the farm less and John's established a masonry business more.
John had married in 1896, but John and Viola did not move into the Mountain House until 1900 when Rebecca moved out. Her three schoolteacher daughters had purchased a house on High Road in Southwest Harbor for her and she relocated there. When they moved into the Mountain House, John and Viola already had two children; and would have four more while residing there.
Lifestyle Change
With the arrival of summer visitors to Mount Desert Island there was much construction occurring all over the island, and John was almost continuously employed. Busy enough that he could hire others to work with him. Time spent working for cash off the farm quickly became more important than working on the farm. Sheep and hogs were no longer kept, and work, such as haying, was hired out.
Most of the family's food continued to be grown on the farm. John took special delight in his fruit trees. He often obtained grafts from people who hired him for masonry work. Apple trees were not in a single orchard, but rather scattered along the margins of the open fields. Even the children found ways to earn spending money. Extra vegetables from the garden and blueberries from the surrounding woods were sold to summer visitors.
The Carrolls were frugal by nature despite these many changes. Viola Carroll continued to make all her family's clothing, even when store-bought items were available. Her son Richard remembers that she made quilts for their bedcovers out of the many-colored bits of cloth left over from her sewing projects. It is said that John even continued to make and repair his family's shoes. But in general, many chores were eliminated as more goods and services were purchased. Cash was used to buy books, toys, a sewing machine, and for the first time, a horse and carriage. Previous generations of Carrolls had walked everywhere they needed to go.
Education
With fewer chores, the Carroll children were able to attend school regularly. All of John and Viola's children, including the four boys, graduated from high school. The Carrolls eventually decided to move to Southwest Harbor because of the 1914 closing of the Norwood Cove school. They made this move in 1917 when their youngest child, Rachel, was due to begin school. Viola wished to spare her little girl the two mile trek the older brothers had been making.
Business and Leisure
In addition to school, the family's business and social lives had already become centered on the village. John's successful masonry business was headquartered in town with several men working for him out of an office there. The church on High Road that John's parents had helped found was a center for social activities, sponsoring sewing circles, Bible study, and potluck dinners, all of which were well attended. Other activities enjoyed by the Carrolls and their neighbors were held at the school. These included evening classes in singing, penmanship, debate, and the ever popular spelling. Living in town meant being closer to their friends and having access to modern conveniences, like indoor plumbing. The Mountain House would never again be used as a year round residence.
Family Tree
John and Viola had six children.


Last updated: October 1, 2020