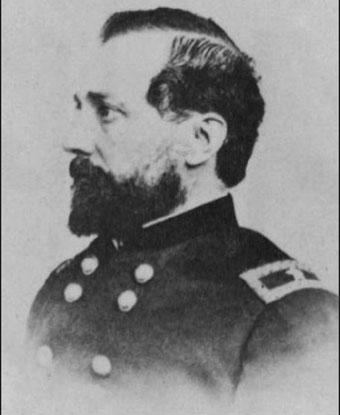 Significance:
Major General, commanding IX Corps, Army of the Potomac
Place Of Birth:
Wheeling, VA
Date Of Birth:
April 20, 1823
Place Of Death:
South Mountain, MD
Date Of Death:
September 14, 1862
Place Of Burial:
Washington (Georgetown), DC
Cemetery Name:
Oak Hill Cemetery
From the Peninsula to Maryland: Reno's role in the summer of 1862
Jesse Lee Reno was a career United States Army officer, serving with distinction in the Mexican-American War and out west in Utah before the Civil War. Though born in Wheeling, Virginia (now West Virginia), Reno's family moved to Pennsylvania in 1830. He graduated from the United States Military Academy eighth in his class of 59 cadets in 1846 after establishing a close friendship with Thomas Jackson.
Reno was a man who was willing to fight regardless of his official position. He quickly gained a reputation as a "soldier's soldier," often fighting beside his troops without a sword or any sign of his rank.
In 1859, Captain Reno took command of the Mount Vernon Arsenal in Alabama. On January 4, 1861 Reno was forced to surrender this arsenal to Alabama militia as a result of an order from Governor Andrew B. Moore a week before Alabama seceded from the Union. Now without a command Reno transferred to Virginia where he was appointed to command of the 2nd Brigade of Major General Ambrose Burnside's expeditionary force during the North Carolina Expedition from February-July, 1862.
Following this campaign Reno was promoted to division command in Burnside's IX Corps, when it was integrated into the Army of the Potomac.
During the Northern Virginia Campaign, Reno's division directly opposed the troops of his friend and classmate "Stonewall" Jackson on two occasions, during the Second Battle of Manassas (Bull Run) and the Battle of Chantilly. Just before the fighting at Manassas, on August 20, Reno was appointed to the rank of Major General. When the Army of the Potomac departed from Washington to face Lee during the Maryland Campaign in September Burnside was appointed commander of the Army of the Potomac's Right Wing, which in turn elevated Reno to command of the IX Corps in Burnside's stead.
On September 13, 1862, Reno's IX Corps advanced from Frederick, Maryland in an effort to intercept Confederate troops in the South Mountains. This movement pitted Reno against the troops of D.H. Hill at the Battle of South Mountain. On September 14, as Reno reconnoitered the Confederate position at Fox's Gap during the battle, he was shot in the chest by a Confederate sharpshooter.
He was removed from the field and brought by stretcher to the command post of Brigadier General Samuel D. Sturgis. When he arrived Reno greeted Sturgis with the words, "Hello, Sam, I'm dead!" Sturgis, thinking that Reno was exaggerating, responded that it was not as bad as all that. Reno in turn declared: "Yes, yes, I'm dead--good-bye!" and died a few minutes later.
D.H. Hill's official report included this statement of Reno's death: "The Yankees on their side lost General Reno, a renegade Virginian, who was killed by a happy shot from the Twenty-third North Carolina."
In 1889, a memorial to Reno was erected by IX Corps veterans at the location of his mortal wounding. This memorial can be found on present-day Reno Monument Road in the South Mountain State Battlefield.
Last updated: June 18, 2015