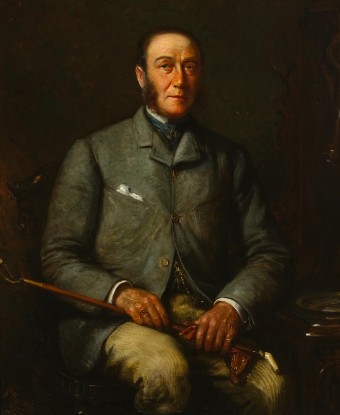 Significance:
American Businessman, Father of Franklin D. Roosevelt, 32nd President of the United States
Place of Birth:
Hyde Park, NY
Date of Birth:
July 16, 1828
Place of Death:
New York City
Date of Death:
December 8, 1900
Place of Burial:
Hyde Park, NY
Cemetery Name:
St. James Episcopal Church
James Roosevelt was a descendant of a long line of Roosevelts in the Hudson Valley, tracing back to Nicholas Roosevelt who settled in Esopus on the west bank of the river in the 1680s. The Roosevelt family's wealth, built through the commercial and industrial fortunes of New York City and more recent investments in railroads, was never as great as that of the industrial barons of the late nineteenth century but was sufficient to make them part of river family society.
James was born July 16, 1828 to Isaac Daniel Roosevelt and Mary Rebecca Aspinwall. The family resided at Rosedale in Hyde Park, New York. In his youth, James was educated at the Poughkeepsie Collegiate School. Five years later, at the age of thirteen, he was sent to Mr. Alexander Hyde's school at Lee, Massachusetts.
In 1843, James enrolled at the University of New York in Manhattan. The following year, his father sent him upstate to attend Union College. James graduated from Union College in 1847 and embarked on a tour abroad that lasted 18 months, visiting France, England, Germany, Spain, Italy, and the Holy Land. He returned home and entered Harvard Law School. He practiced law for a short time with the firm of Benjamin Silliman of New York. He later entered the railroad business, becoming Vice-President of the Delaware and Hudson Railroad Company and President of the Champlain Transportation Company. He served as co-director of the Consolidated Coal Company of Maryland, was an incorporator of the City Trust Company, a trustee of the Farmers' Loan and Trust Company, and an officer of a large steel concern at West Superior, Wisconsin. He was also active in Dutchess County affairs, serving as Supervisor of the Town of Hyde Park for two terms and as a manager of the Hudson River State Hospital.
In 1853, James married Rebecca Brien Howland (1831-1876), daughter of Gardiner Greene and Louisa Meredith Howland. They had one son, James Roosevelt "Rosy" Roosevelt (1854-1927).
James and Rebecca resided at Mount Hope, located along the Post Road in Poughkeepsie, New York. Mount Hope was destroyed by a fire in 1865 that occurred while he was traveling abroad with his first wife Rebecca. Roosevelt decided not to rebuild, and two years after the fire he purchased the Wheeler Place located just over two miles to the north in Hyde Park. According to family tradition, James was interested in the Wheeler Place, which he later renamed Springwood, because it had pastureland, a horse track, and a stable that he required to raise his trotting horses. The landscape also contained the natural attributes most favored for country places in the Hudson Valley, notably its river and mountain views and its rural setting. The Italianate-style main house, although renovated nearly two decades earlier, was still fashionable, and the wooded land leading down to the Hudson River provided ample opportunity for development of a rustic pleasure ground.
James considered Hyde Park his primary home, as he later wrote: "I have always lived at Hyde Park on the Hudson, where I have an estate of 500 acres and am devoted to country life." As a gentleman farmer, James Roosevelt practiced diversified agriculture that provided a range of products for domestic consumption. He maintained dairy cows, pigs, chickens, and horses, and raised fodder crops in the fields. The showpiece of the farm was James's herd of Alderney (Jersey or Guernsey) cattle, which he had started in 1848 at Mount Hope, and continued to improve into the 1890s.
Rebecca died on August 21, 1876 following a massive heart attack. Three years later on October 7, 1880, he was married Sara Alvey Delano (1854-1941), the daughter of wealthy capitalist Warren Delano. After a ten-month trip to Europe, the couple returned to Springwood in September 1881, and four months later on January 30, 1882, Franklin Delano Roosevelt was born in a second-floor bedroom in the Springwood house. He would be the couple's only child.
James was a member of the Holland Society, the University Club, Seawanaka-Corinthian Club, Delta Phi Club, Century Club, Metropolitan and Manhattan Club, and the Metropolitan Club of Washington. He was the alternate commissioner from this State to the World's Fair at Chicago.
James Roosevelt died in New York City on December 8, 1900.
Last updated: July 20, 2021