Person
James "Gentleman Jim" Robinson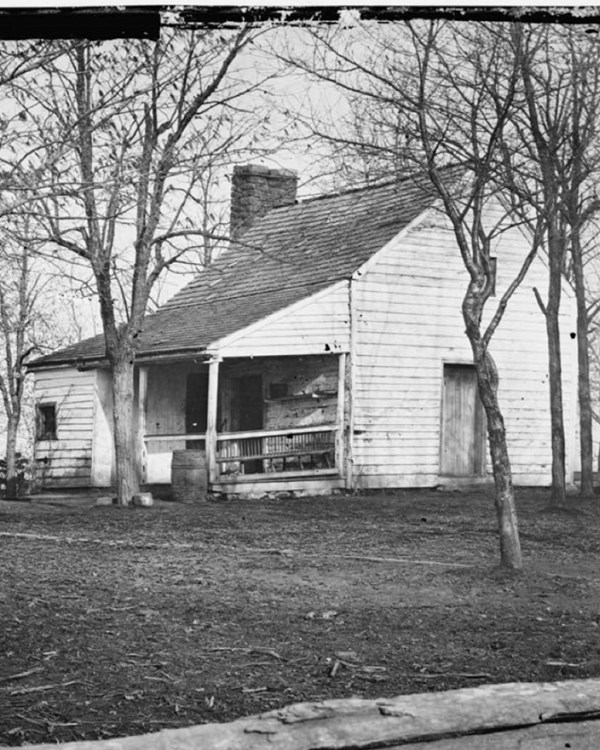 Significance:
Free African American whose house and family were on the front lines at First Manassas
Place of Birth:
Prince William County, VA
Place of Death:
Prince William County, VA
Place of Burial:
Fairfax County, VA
 "James Robinson may not have been a Colonel or a General, but he and his generations were people to be proud of." 
Descendant Lillian Robinson, 1993 
James Robinson was a free African American born near Manassas, Virginia in 1799 to an African American mother and a white father. His father was likely a member of the wealthy and influential Carter family whose reach extended through much of Virginia and whose success was made on the backs of enslaved labor. According to Robinson family oral tradition, James' father was Landon Carter Jr., a wealthy planter whose home, Pittsylvania, once loomed large over the landscape where the Battles of Manassas would be fought. By contrast, we know very little about James' mother. Given that he was born free and that in Virginia, the status of a mother determined the status of her children, it is possible that his mother had at one time been enslaved by the Carters but had gained her freedom prior to Robinson's birth.   
As a young man, James was "bound out" a common practice at the time among free African Americans where a child was apprenticed or put to work until the age of 21. Some of these children worked as field hands, and others learned a trade. Later in life, Robinson indicated that during the time he was bound out he was sent to work as a field hand. However, by the time he reached 25 years of age, he was living and working in the Manassas area. In 1825 Robinson registered as a free man at the Fairfax County Courthouse which declared, "James Robinson ... a bright mulatto man about twenty four years of age, five feet five and a quarter inches high, has no visible mark or scar,...it appears that he was born free in ... the County of Prince William."   
Based on a written contract that he entered in to with Brentsville tavern owner Thomas R. Hampton, we know that Robinson worked as a waiter in his establishment. Through his work for Hampton, Robinson was able to save enough money to purchase 170 acres from John Lee in 1840, for $484.94. In the next ten years, Robinson made several additional business deals or improvements to his property and, in the decades before the war began, was anywhere from two to six times wealthier than his neighbor, Mrs. Judith Carter Henry. In 1848, he sold 20 ½ acres of land to neighbor Thomas O. Clarke for $100 so that he could build a one-and-a-half story, 400 square foot house on his property. He also rented land from another landowner to grow grain. While he was expanding his land holdings and building a small farm, he continued to do other kinds of business in the community. Notably, Robinson made money by operating a drover's tavern for people driving their animals along the Warrenton Turnpike, a toll road at the time which connected Warrenton and Alexandria.  
James Robinson became known as "Gentleman Jim" owing to the wealth he was able to acquire over the years as he successfully negotiated relationships with his white neighbors and became one of the wealthiest free African Americans in Prince WIlliam County. By 1850, Robinson owned over $1,000 in property; and in later years, he continued to purchase more property in the area. When he died, he was in possession of 1,500 acres of land. 
---
Establishing a Family  
While James Robinson was a free man, he married an enslaved woman named Susan Gaskins, although their marriage was never legally recognized because she was enslaved. In fact, when James died in 1875, his death notice mentions Susan as his consort rather than his wife. James and Susan ultimately had six children; however, because their mother was enslaved, they were also enslaved at birth. During this period, there was less demand for enslaved labor in Virginia due to changes in agricultural production, and enslaved workers were sometimes sold south to work on large sugar or cotton plantations which required significant amounts of enslaved labor to sustain production. In addition, it was common in Virginia for enslaved individuals to be hired out by smaller farmers and landholders, taking them further away from their families. Because of this, many families were torn apart as their loved ones were sold or hired out. Despite the fact that Robinson was free and somewhat influential among his neighbors, he could not prevent two of his sons, Alfred and James Jr. from being sold by their enslaver, John Lee and they were sent to work on a sugar plantation near New Orleans. Robinson would never see his sons again, although Alfred would return in 1888 more than a decade after his father's death.   
One way that Robinson as a free man attempted to use his influence and keep his family together was by either buying or hiring out his own family members, or by arranging for them to be hired out by men he could trust. In 1846, he hired his son Tasco from the man who enslaved him, John Lee. This arrangement allowed Tasco to live and work with his father, rather than with Lee. Later, Robinson indicated that he was able to buy Tasco's freedom outright.  
In 1847, several members of the Robinson family were ultimately granted freedom by John Lee, their enslaver in his will. Robinson's wife Susan and daughter Hannah (called Henney) were bequeathed to him. Additionally, Lee also freed Jemima, another of Robinson's daughters, who had been Lee's "constant waiter attendant, and servant" and her two children Dinah (or Dianer) and Pendleton. In 1847, James bound out his own daughter Jemima to two white men with whom he had made business transactions, John Dogan and Alfred Ball.  
By the time of the 1850 census, James Robinson was the head of his household and had eight other individuals living with him. Most are listed on the census as mulatto. Among them were his wife Susan, daughters Jemima and Hannah, sons Bladen and Tasco, and his grandchildren, Dianah and Pendleton. His household also included a 75-year-old African American woman named Anah, who may be related to the Robinsons, but there is not enough known about her to understand how she is related.  
By 1861, James Robinson had established himself as a successful member of the Manassas community. He had developed business relationships with many of the white families in the area that allowed him not only to accumulate property but also to use his understanding of enslavement to try to protect his family. One business partner commented that he "did more business than most" in the area. Robinson overcame enormous personal, legal, and social obstacles to demonstrate that a free black man could succeed.    
---
War Comes to the Robinsons 
Despite overcoming many obstacles, James Robinson and his family would be swept up by the two battles of the Civil War fought in Manassas. In 1861, during First Manassas, the Hampton Legion (South Carolinians) took position along his farm lane.  In 1862, during the Second Battle of Manassas, Federal General Franz Sigel established his headquarters inside Robinson's house. After the battle, his home was also used as a field hospital.  
Following the War, Robinson submitted a claim to the Southern Claims Commission, established to compensate people who were living in the South who could prove that they were loyal to the United States throughout the war, their property had been taken for official use by the Federal Army, and they were the owner of that property. Robinson was ultimately successful in receiving some compensation for his loss, and he was awarded $1249, about half of the $2608 he had asked for as restitution.  
Following the war, Robinson enlarged his house with the construction of a 2 ½ story addition on the east elevation of the house in 1871. In the late 1800s, after Robinson's death in 1875, a shed was constructed on the west elevation and several other improvements would be made into the early 20th century as the Robinson family continued to occupy the site until the 1930s. In 1993, one of James Robinson's descendants, Lillian Robinson reflecting on her family's legacy would write,  
"James would have been very proud of his descendants. Down through the years they have been productive citizens, who earned their living as farmers, millers, lawyers, doctors, nurses, school teachers, government workers, and other worthy occupations." 
Last updated: January 23, 2022