Person
James Ewell Brown "Jeb" Stuart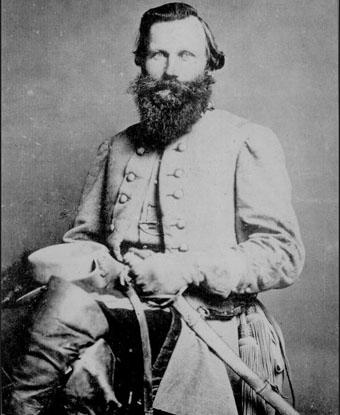 Significance:
Major General commanding Cavalry Corps Confederate Army of Northern Virginia
Place Of Birth:
Patrick County, VA
Date Of Birth:
February 6, 1833
Place Of Death:
Richmond, VA
Date Of Death:
May 12, 1864
Place Of Burial:
Richmond, VA
Cemetery Name:
Hollywood Cemetery
From the Peninsula to Maryland: Stuart's role in the summer of 1862
James Ewell Brown Stuart, often identified by his initials as "Jeb", was a man who came from an acclaimed military lineage. He put his breeding to good use in March 1862 when he was given command of all the cavalry brigades in what would soon become the Army of Northern Virginia.
Soon after he took command of the Army of Northern Virginia, General Robert E. Lee sent Stuart on a mission to perform reconnaissance to determine the vulnerability of the right flank of the Union army. On the morning of June 12 Stuart set out with 1,200 troopers and, upon determining that the flank was indeed vulnerable, took his men on a complete circumnavigation of the Union army. They returned to Lee's headquarters on July 15 after having ridden 150 miles, bringing with them 165 captured Union soldiers, 260 horses and mules, and various other supplies.
Largely due to this success, combined with other effective raids, on July 25, 1862, early in the Northern Virginia Campaign, Stuart was promoted to major general and his command was officially upgraded to the Cavalry Division.
Stuart continued raiding Federal positions following this promotion and was nearly captured during a raid on August 18. Though he managed to escape, he lost his signature plumed hat and cloak to pursuing Federals. The following day he launched a retaliatory raid at Catlett's Station, in which he managed to overrun Union army commander Major General John Pope's headquarters. Stuart not only captured Pope's full uniform (to make up for his own lost hat and cloak), but also intercepted orders which included valuable intelligence regarding the arrival of reinforcements for Pope's army from the Army of the Potomac.
At the Second Battle Manassas (Bull Run) Stuart and his cavalry entered the fray following the massive assault by Longstreet's infantry, successfully protecting the Confederate flank and artillery positions.
As the Union forces retreated Stuart ordered General Beverly Robertson's brigade to pursue the fleeing Federals. This brought on a sharp fight against Union General John Buford's brigade, which Stuart's troopers eventually pushed back across Lewis's Ford after capturing over 300 Union troopers.
Stuart's men continued to harass the retreating Union columns until the campaign ended at the Battle of Chantilly. When the Army of Northern Virginia crossed the Potomac and launched the Maryland Campaign in September 1862, Stuart's cavalry successfully screened the army's movement north into Maryland, but failed to keep Lee fully abreast of the position and movements of the pursuing Army of the Potomac. For five days after crossing into Maryland, Stuart rested his men and entertained local civilians in Urbana. Although he filed reports, they made no reference to any intelligence gathering by his scouts or patrols.
This meant that when McClellan moved out of Washington and in pursuit of Lee much more rapidly than expected, the Confederate forces were unprepared to meet him.
Stuart and his men were involved in the fighting at South Mountain and Antietam, but failed to achieve significant results at either battle. Misjudging the Union routes of advance and ignorant of the Union force threatening Turner's Gap, Stuart was saved by the timely arrival of the infantry of Gen. D.H. Hill in his efforts to defend the passes during the Battle of South Mountain.
On the afternoon of September 17 at Antietam, "Stonewall" Jackson ordered Stuart to attempt to turn the Union flank, promising infantry support if Stuart was successful. Stuart began probing the Union lines, but was quickly answered by "murderous" counterbattery fire, and the cavalry movement intended by Jackson was never fully launched.
Following the withdrawal of the Army of Northern Virginia back into Virginia, Stuart performed another circumnavigation of the Army of the Potomac: a total of 120 miles in less than 60 hours, riding from Leesburg, Virginia, as far north as Chambersburg and Mercersburg, Pennsylvania.
Though demoralizing and embarrassing to the Union, this ride gained little military advantage. Jubal Early described it as "the greatest horse stealing expedition" which did little more than annoy the enemy.
When McClellan finally pushed his army south, crossing the Potomac beginning on October 26, Lee sent Stuart to obstruct the movement. Stuart screened Longstreet's Corps as they advanced and his troopers engaged in skirmishes with both Union cavalry and infantry numerous times in early November near Mountville, Aldie, and Upperville.
Last updated: June 17, 2015