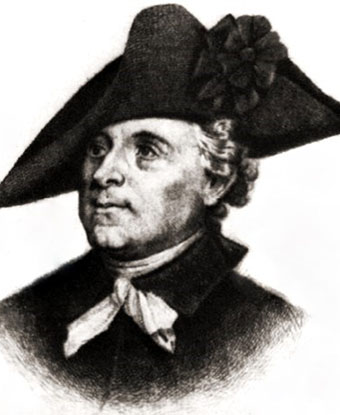 Significance:
Officer in the Continental Army
Place of Birth:
Berkeley County, South Carolina
Date of Birth:
March 19, 1743
Place of Death:
Charleston, South Carolina
Date of Death:
October 6, 1797
Isaac Huger, an officer in the Continental Army during the American Revolution, first acquired combat experience in 1761 in the Cherokee War, part of the larger French and Indian War. Born at Limerick Plantation on the Cooper River, he was the second son of Daniel Huger, a wealthy Huguenot merchant and planter, and Mary Cordes. As the son of a wealthy planter, Isaac Huger followed the colonial trend of pursuing a formal education in Europe. On March 23, 1762, Huger married Elizabeth Chalmers; they had eight children together.
A veteran of the Cherokee War, in which he served as an officer in Colonel Thomas Middleton's Provincial Regiment, the Provincial Congress of South Carolina in 1775 selected Huger as lieutenant colonel of the First South Carolina Regiment. During the Battle of Sullivan's Island, Huger's 1st SC Regiment garrisoned Fort Johnson on James Island and took no part in defeating the British attack on Charleston. During the years of peace that followed in the south, Huger was promoted to colonel. On January 9, 1779, he was promoted to the rank of brigadier general in the Continental army. 
Huger fought and was wounded at the Battle of Stono Ferry on June 20, 1779, and commanded the South Carolina and Georgia militia during the siege of Savannah in October 1779. During the siege of Charleston in the spring of 1780, he was placed in command of the light horse and militia outside the city. Lt. Col. Banastre Tarleton's British Legion, a unit of loyalist dragoons, surprised and routed Huger's force at Moncks Corner on April 14, 1780. Illness kept Huger from capture with the surrender of Charleston, and he later rejoined the southern army under Maj. Gen. Horatio Gates in North Carolina. 
Huger was present when Maj. Gen. Nathanael Greene took command of the Southern Department in Charlotte later in December. Serving under Greene, Huger commanded a brigade of Virginia Continentals at the Battle of Guilford Courthouse on March 15, suffering a wound. Commanding the same regiment at the Battle of Hobkirk's Hill on April 25, Huger tried to stem the damage from the withdrawal of the Maryland Continentals. With the retreat of the British from the interior to Charleston, Huger was reunited with his family and returned to his home, ending his military service. 
Huger represented St. George's Dorchester parish in the Jacksonborough Assembly in January 1782 and served in the legislature until his election as sheriff in 1785. His appointment as the first federal marshal for South Carolina occurred in 1789, a position he held for five years. He died in Charleston on October 6, 1797. 
Last updated: March 17, 2021