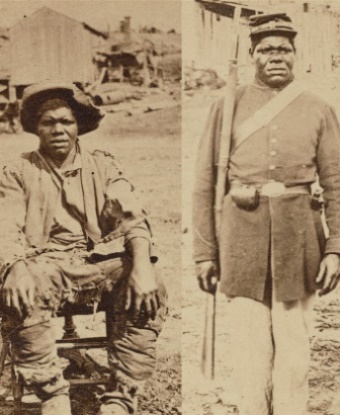 Significance:
Photographed to recruit black soldiers during the Civil War
Place of Birth:
Rome, Georgia (probable)
Date of Birth:
Around 1842
Hubbard Pryor was enslaved from birth near Rome, Georgia. At some point after the Union Army captured Chattanooga in November 1863, Pryor escaped and made his way to Chattanooga. On April 7, he enlisted in the 44th United States Colored Troops, one of several regiments of USCTs being organized in the city. In October 1864, Pryor was taken prisoner near Dalton, but the Confederates refused to consider black soldiers as prisoners of war. The captured men of the 44th USCT were rounded up into a pen where local farmers could claim them as lost property. Those who went unclaimed were forced into labor by the Confederate Army. Pryor spent the rest of the Civil War back in slavery. But he survived. He lived in Georgia, and reportedly moved to Texas, where he died in 1890. 
However, Pryor is most known for his photograph. Around the time he arrived in Chattanooga, a photographer captured an image of Hubbard Pryor in the tattered clothes of an enslaved man. Some time later, the photographer took Pryor's photo in the uniform of a United States soldier. The images were widely reprinted to not only recruit black men into the ranks, but also to show the northern public the transformative power of the war.
The abolitionist Fredick Douglass had said "Once let the black man get upon his person the brass letter, U.S., let him get an eagle on his button, and a musket on his shoulder and bullets in his pocket, there is no power on earth that can deny that he has earned the right to citizenship." Hubbard Pryor and his famous photograph illustrate the power and truth of Douglass' words, and the struggle for emancipation and citizenship. 
Last updated: February 15, 2018