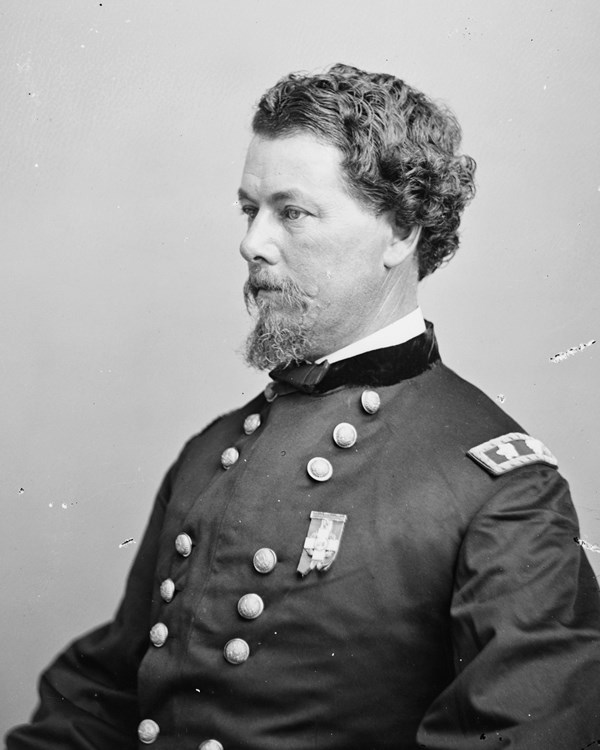 Significance:
U.S. Army General
Place of Birth:
Clinton, CT
Date of Birth:
March 3, 1820
Place of Death:
Washington, DC
Date of Death:
July 2, 1899
Place of Burial:
Arlington, VA
Cemetery Name:
Arlington National Cemetery
Engineer and career U.S. Army officer, Horatio Gouverneur Wright graduated second in his class from the United States Military Academy in 1841 with a commission in the engineer corps. Following his graduation, Wright remained at West Point, teaching French and engineering to the cadets. Beginning in 1846, he spent the next ten years in Florida, working on improvements to coastal infrastructure and fortifications. After his promotion to captain in 1855, Wright served as assistant to the Chief of Engineers, Colonel Joseph G. Totten, in Washington D.C.
At the outbreak of the Civil War, Wright participated in the unsuccessful attempt to destroy the remaining ships and guns of the Gosport (later Norfolk) Navy Yard before its occupation by Confederate forces. He then assisted in the initial construction of the defenses of Washington, D.C., before his assignment as chief engineer of the 3rd Division at the First Battle of Bull Run on April 20, 1861. Wright advanced rapidly in rank until receiving appointment as major general of volunteers in August 1862, followed by brief command of both the Department of the Ohio and Army of the Ohio. He was transferred to divisional command within VI Corps of the Army of the Potomac, when Congress failed to confirm his promotion to major general.
Wright assumed command of VI Corps after the death of its commander, General John Sedgwick, at Spotsylvania Court House on May 9, 1864. Three days later he was again promoted to major general of volunteers. Wright led VI Corps at Cold Harbor before his troops were rushed to Washington in the wake of Confederate General Jubal Early's attack on the capital in July 1864. On October 19th, Wright commanded the initial attack at Cedar Creek until Union General Philip Sheridan's arrival. During the Siege of Petersburg, Wright's VI Corps smashed through Confederate defenses on April 2, 1865. His troops then dealt Lee's Army of Northern Virginia a crippling blow at Sailor's Creek, capturing hundreds of Confederate soldiers, most notably Lieutenant General Richard S. Ewell on April 6.
After the war, Wright commanded the Department of Texas from 1865 to 1866. Returning to engineering, he served on various engineering and planning boards, and participated in the completion of the Washington Monument and construction of the Brooklyn Bridge. In 1879, Wright became Chief of Engineers with the rank of brigadier general, a position he held until his retirement in 1884.
Last updated: October 18, 2021