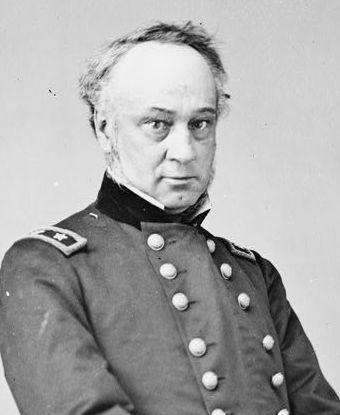 Significance:
Union general and chief of staff of all Union armies
Place Of Birth:
Oneida County, NY
Date Of Birth:
January 16, 1815
Place Of Death:
Louisville, KY
Date Of Death:
January 9, 1872
Place Of Burial:
Brooklyn, NY
Cemetery Name:
Green-Wood Cemetery
Known as "Old Brains" for his scholarly pursuits, Henry Wager Halleck was an accomplished Union general, lawyer, and land speculator.
Born in 1815, he was raised on a farm in upstate New York before running away to join his uncle in Utica, where he attended Hudson Academy. He then furthered his education at the United States Military Academy, ranking third in his class of 31 upon his graduation in 1839.
During the Mexican-American War Halleck spent several months in the West where, in addition to building fortifications in California and serving as lieutenant governor of the captured port of Mazatlán in Mexico, he translated Henri Jomini's Vie politique et militaire de Napoleon. Prior to the Civil War, he also lectured at the Lowell Institute, wrote Elements of Military Art and Science, and built San Francisco's first fireproof building.
Despite having sympathies for the Confederacy, he was staunchly in favor of preserving the Union and became a U.S. Army major general in August 1861, after a recommendation from Union general Winfield Scott. The fourth highest ranking gneral in the Union army, Halleck was given command of the Department of the Missouri where he oversaw ealy Union operations, including the successes at Forts Henry and Donelson and the costly victory at Shiloh.
He was considered a good general, with Maj. Gen. William T. Sherman once calling him the "directing genius" of several Union victories. Despite his impressive skill in military strategy and logistics, however, Halleck was distant towards his subordinates, considered difficult to work with, and provided little control when it came to field operations. As such, President Lincoln once described him as "little more than a first rate clerk." Following the Peninsula Campaign, Halleck was moved East and named General-in-Chief of all Union armies. In 1864, when Ulysses. S. Grant became General-in-Chief, Halleck was reassigned as chief of staff, where he was much more effective as an administrator. He served as pall-bearer for Abraham Lincoln, following the president's assassination in April 1865.
After the war, he visited the newly purchased Alaska territory with photographer Eadweard Muybridge and is credited as one of the people to give the state (then called Russian America) its name. Halleck spent his last years assigned to the Military Division of the South, dying at his post in 1872.
Last updated: June 18, 2015