Person
Henry Thomas Harrison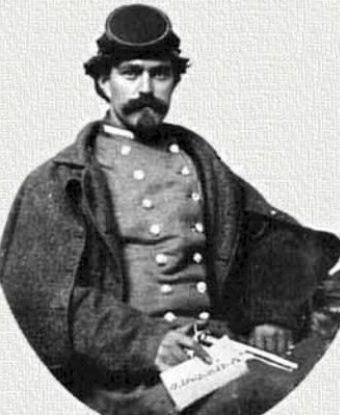 Significance:
Confederate spy
Place Of Birth:
Nashville, TN
Date Of Birth:
April 23, 1832
Place Of Death:
Covington, KY
Date Of Death:
October 28, 1923
Place Of Burial:
Fort Mitchell, KY
Cemetery Name:
Highland Cemetery
Not much is known about this elusive figure - for over a century, even his real name was a mystery. But Henry Thomas Harrison's actions during the Civil War forever changed the course of history.
Born in Nashville in 1832, the Confederate soldier joined the 12th Mississippi Infantry in May 1861. He was discharged the same year though and became a spy for Confederate Secretary of War James Seddon. After meeting General James Longstreet in April 1863, he then became a spy for him.
Known only as "Harrison" for decades, the tips he provided (for which he was usually paid in gold), proved both reliable and invaluable, but the one for which he'll be forever famous was the one delivered on June 28, 1863. On that night, he shared with Longstreet the news that Federal forces were located around Frederick, Maryland and advancing north, as well as the information that Union General George Meade had replaced Joseph Hooker as commander of the Army of the Potomac.
With Confederate troops being stretched thin along a wide swath of land in south central Pennsylvania, so alarmed was Longstreet by the news that he sent Harrison to relay it to General Robert E. Lee, who then made the decision to concentrate his troops at Gettysburg. The move prevented the Union from being able to take on smaller groups of the enemy, but it also resulted in the epic three-day Battle of Gettysburg, where over 50,000 soldiers were killed, wounded, captured or missing in action.
After the war, Harrison moved his wife and daughter to Mexico, but left them in 1866 to go search for gold in Montana, disappearing for 25 years while his wife presumed him dead and remarried.
He later worked as a detective in Cincinnati from 1901 to 1911 before moving to Covington, Kentucky, where he died in poverty 12 years later. Longstreet took Harrison's true identity to the grave and an application for a military pension in 1912 lists him only as a Confederate veteran.
Last updated: December 2, 2016