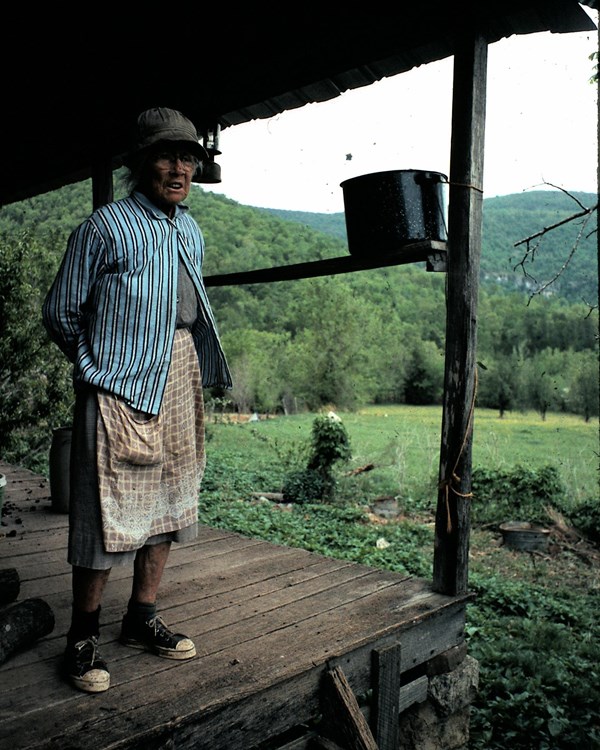 Significance:
Ozark homesteader
Date of Birth:
November 12, 1892
Place of Death:
Compton, AR
Date of Death:
July 10, 1979
Place of Burial:
Compton, AR
Cemetery Name:
Plumlee Cemetery
The mention of "Granny Henderson" can evoke a variety of emotions for different people across Buffalo River country: admiration, nostalgia, anger, sympathy, regret. The fact that her name makes so many feel so strongly is a testament to her resounding legacy across Buffalo National River and the Ozarks.
Since the establishment of Buffalo National River, Eva Barnes Henderson (1892 - 1979) has become an icon of strength and frontier grit for her rugged self-sufficiency and homesteader lifestyle. For this reason, her old cabin is a popular pilgrimage for hikers, horseback riders, and paddlers in today's Ponca Wilderness.
Built in the early 1900s by Eva and her husband, Frank, the cabin and surrounding homestead gave the newlyweds an immense sense of pride and purpose. Together, the Hendersons maintained agricultural fields, raised cattle, and gathered all of the water they used each day from the river or nearby springs, carrying it back to their cabin in large buckets. When Frank passed away in 1959, Eva did not leave her beloved home. Instead, she continued life as she had always known it, exhibiting the dogged determination to thrive independently and sustain herself well into her eighties without the modern comforts of plumbing, telephone, or electricity.
Over the years, as the Buffalo River grew in popularity as a recreation destination, "Granny" welcomed countless paddlers who would camp on her property, and sometimes she even cooked them breakfast before they departed. She was a kind and humble friend to the many strangers who visited her backyard.
Shortly after the National Park Service acquired her property for Buffalo National River, Granny passed away at age 87. When you visit Granny's old place today, take a moment to honor this tenacious and hard working woman who loved every day of her life on the Buffalo. 
Last updated: December 24, 2021