Gouverneur Warren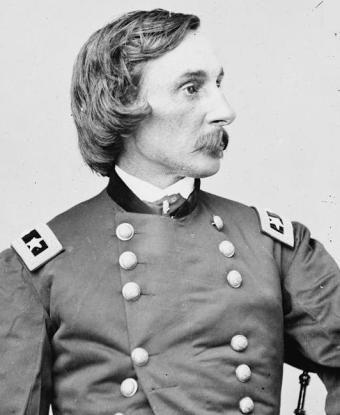 Quick Facts
Significance:

Major General

Place Of Birth:

Cold Spring, NY

Date Of Birth:

January 8, 1830

Place Of Death:

Newport, RI

Date Of Death:

August 8, 1882

Place Of Burial:

Newport, RI

Cemetery Name:

Island Cemetery
A West Point graduate, civil engineer and career U.S. army officer, Gouverneur Kemble Warren served in the Corps of Topographical Engineers prior to the Civil War. He participated in the exploration and surveying of transcontinental railroad routes, which resulted in the creation of the first comprehensive map of the United States west of the Mississippi River. Teaching mathematics at West Point when war broke out, Warren helped form and lead the 5th New York Infantry.

In the 1862 Peninsula Campaign, Warren put his considerable skills as a civil engineer to work leading reconnaissance teams and developing maps for the Army of the Potomac's advance up the Virginia Peninsula. He commanded a brigade during the Seven Days' Battles. At the Battle of Malvern Hill, his troops stopped a division-sized Confederate force. Warren later led his brigade at the Battles of Second Manassas, Antietam and Fredericksburg. Based on his service at Malvern Hill, he received a promotion to brigadier general in September, 1862. Following Hooker's reorganization of the Army of the Potomac in February 1863, Warren was appointed chief topographical engineer, then chief engineer.

Though commended for his service at Chancellorsville, Warren's greatest achievement in battle came at Gettysburg, when, on the second day of battle, he directed Union troops to seize Little Round Top on the far left end of the Federal line. Warren's quick action protected the exposed left flank of the Union army. Promoted to major general, Warren commanded II Corps and later V Corps. On April 1, 1865, Maj. Gen. Sheridan relieved him of his command for "unskillful" conduct during the Battle of Five Forks. After the war, Warren resumed his career in the Corps of Engineers. He sought, and finally received, a court of inquiry in 1879, which largely exonerated Warren's actions at Five Forks. Unfortunately, the court's findings were not published until after Warren's death.
Last updated: June 17, 2015