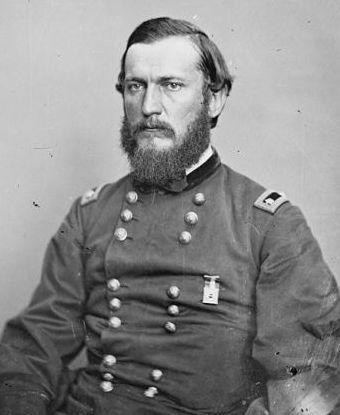 Quick Facts
Significance:

Union Major General; led first Union troops into Richmond in April 1865

Place Of Birth:

Pirmasens, GE

Date Of Birth:

November 1, 1835

Place Of Death:

Philadelphia, PA

Date Of Death:

March 19, 1884

Place Of Burial:

Cincinnati, OH

Cemetery Name:

Spring Grove Cemetery
A career U.S. army officer and civil engineer, Godfrey Weitzel graduated from West Point in 1855 with a commission in the Corps of Engineers. On his first assignment he assisted with the design, construction and repair of fortifications guarding New Orleans. Weitzel returned to West Point in 1859 to teach civil and military engineering. While stationed at Washington, D.C., in March 1861, his engineering company served as President Lincoln's bodyguards during the inauguration.

After the Civil War started, Weitzel served under various engineering commands tasked with improving the defenses of Cincinnati and Washington. He was then appointed appointer chief engineer of the Department of the Gulf during Gen Benjamin Butler's expedition that captured New Orleans. Weitzel's knowledge of the city's defenses was critical to Butler's success. In August 1862, he earned a promotion to brigadier general of volunteers, and the following year commanded a division of troops under Major General Nathaniel P. Banks during the assault and siege of Port Hudson, Louisiana. Weitzel received a transfer in April 1864 to Gen. Butler's Army of the James, where he served in the dual role of Chief Engineer and commander of 2nd Division, XVIII Corps. In August 1864, he was brevetted major general. The next month, Weitzel assumed command of XVIII Corps and led his troops in the capture of Fort Harrison, a key component of the defenses of Richmond. After his promotion to full major general of volunteers in November 1864, Weitzel took command of XXV Corps, composed of U.S. Colored Troops, and led them in a land assault on Fort Fisher, North Carolina in December. Though the attack failed miserably, blame fell not on Weitzel, but his commander Gen. Butler.

In February 1865, Gen. Grant directed Weitzel to take command of all Union forces north of the Appomattox River. After the fall of Petersburg, Weitzel's troops entered the Confederate capitol of Richmond on April 3, 1865. He was subsequently sent to command the District of the Rio Grande and guard the border between Texas and Mexico. Weitzel mustered out of the volunteer service in March 1866. He resumed his duties with the Corps of Engineers, designing ships canals at Louisville and Sault Sainte Marie.
Last updated: June 17, 2015