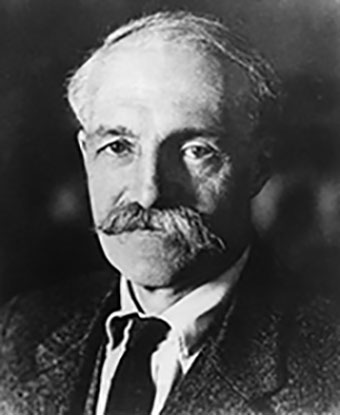 Significance:
First Chief of the US Forest Service and Governor of Pennsylvania
Place of Birth:
Simsbury, Connecticut
Date of Birth:
August 11, 1865
Place of Death:
New York City, New York
Date of Death:
October 4, 1946
Place of Burial:
Pike County, Pennsylvania
Cemetery Name:
Milford Cemetery
Gifford Pinchot was born to wealthy parents in Simsbury, Connecticut. His father, wallpaper merchant James Pinchot, and mother, daughter of one of New York's wealthiest real estate developers, were devout Episcopalians. They were passionate about their son's education. As a child, Gifford Pinchot was sent to a series of prominent schools, first attending boarding school at Phillips Exeter Academy and then entering Yale University. On his father's recommendation, Pinchot then traveled to France to train at the French National School of Forestry. When he returned to the United States, he applied the skills he learned abroad to growing the forestry movement in the United States.
Pinchot had a national and far-reaching idea of American forestry that recognized natural lands as interconnected. He advocated for this perspective, helping found the Yale School of Forestry and eventually being tapped by Teddy Roosevelt to serve as the first chief of the US Forest Service. Pinchot made major strides in this position. He moved many public lands into official federal custody and emphasized the government's role in protecting these lands rather than giving them to private interests.
As government interests shifted, Pinchot began to lose some of his political power. When William Howard Taft was elected in 1908, he dismissed Pinchot from his chief position. A great forest fire in 1910 also undermined Pinchot's authority and sent the US Forest Service reeling as public lands burned across the American West, affecting 22 national forests across several states.
This incident damaged Pinchot's environmental career and led to his shift into the broader political sphere. Over the course of his life, Pinchot would run several times for public office, identifying as a member of the Progressive Party. He ran for governor of Pennsylvania in 1922 and succeeded. The course of his term was challenging, as his progressive values clashed with many power-players in the state. He retired after one term.
After several unsuccessful attempts to become governor again, Pinchot served as governor again from 1931 to 1935. In 1934, he lost a bid for the US Senate and never returned to politics.
Pinchot died in 1946 at age 81 from leukemia. He was survived by his wife Cornelia and his son, Gifford II. Grey Towers, the family's summer house, is now preserved as a national historic site.
Last updated: May 9, 2018