Gideon Welles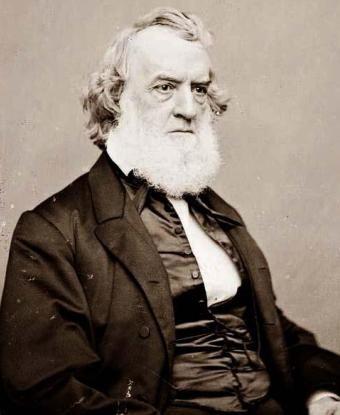 Quick Facts
Significance:

Secretary of the Navy

Place Of Birth:

Glastonbury, CT

Date Of Birth:

July 1, 1802

Place Of Death:

Hartford, CT

Date Of Death:

February 11, 1878

Place Of Burial:

Hartford, CT

Cemetery Name:

Cedar Hill Cemetery
Journalist, politician and cabinet secretary, Gideon Welles served as Secretary of the Navy in the Lincoln and Johnson administrations. Welles began his political life as a Jacksonian Democrat, using his newspaper, The Hartford Times, to support Jackson's candidacy for President in 1828. He was elected to the Connecticut legislature, serving until 1835. The following year, Jackson appointed Welles as postmaster of Hartford, a position he held until 1841. From 1846 until 1849, he served in the Polk administration as Chief of the Bureau of Provisions and Clothing for the Navy. Welles left the Democratic Party in the 1850s over the issue of slavery.

During the 1850s Welles shifted his political allegiance to the newly organized Republican Party and founded the Hartford Evening Press to trumpet Republican views. After failing in his run for governor of Connecticut, he served as member of the Republican National Committee and member of the party's executive committee, leading Connecticut's delegation to the 1860 Republican National Convention in Chicago. After his election as President in 1860, Lincoln rewarded Welles' support by appointing him Secretary of the Navy.

Welles oversaw the modernization and buildup of the U.S. Navy, including the development of ironclads. His effective stewardship of the Navy Department enabled the successful implementation of a blockade against Confederate ports, which limited the Confederacy's ability to finance the war through the cotton trade. After Lincoln's assassination, Welles continued to serve as Secretary of the Navy in the Johnson administration. He also supported Johnson's reconciliation policies toward the South, putting himself at odds with the Radical Republicans in Congress.

In 1869, Welles left Washington and the Republican Party. He focused his remaining years on editing his journals and writing books, including a biography, "Lincoln and Seward," published in 1874. Welles' three volume diary of his service to Lincoln and Johnson is recognized as an invaluable resource by Civil War and Lincoln scholars alike.
Last updated: June 17, 2015