Person
Gerald R. Ford Jr.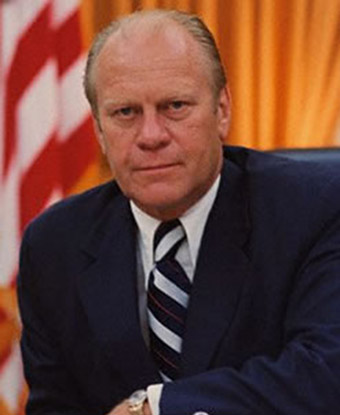 Significance:
38th President of the United States
Place of Birth:
Omaha, Nebraska
Date of Birth:
July 14, 1913
Place of Death:
Rancho Mirage, California
Date of Death:
December 26, 2006
Place of Burial:
Gerald R. Ford Presidential Museum, Grand Rapids, MI
Gerald Rudolph Ford, Jr. was born Leslie Lynch King Jr. on July 14, 1913 in Omaha, Nebraska. Born in the home of his paternal grandparents, his mother was Dorothy Ayer Gardner and his father was Leslie Lynch King Sr. Dorothy separated from King just sixteen days after her son's birth. She took her son with her to the Oak Park, Illinois before moving to the home of her parents in Grand Rapids, Michigan. In 1916, Dorothy married Gerald Rudolff Ford, a salesman in a family-owned paint and varnish company. They then called her son Gerald Rudolff Ford, Jr. The future president was never formally adopted, and did not legally change his name until December 3, 1935; he also used a more conventional spelling of his middle name.
Growing up in Grand Rapids, Ford was involved in the Boy Scouts of America, and earned the rank of Eagle Scout. A star college football player at the University of Michigan, he also worked as a seasonal park ranger at Yellowstone National Park in 1936. Ford later recalled of his time as a ranger as, "One of the greatest summers of my life."
Ford served in the Navy during WWII. He returned to civilian life in 1946, having earned the Asiatic-Pacific Campaign Medal, the Philippine Liberation Ribbon, the American Campaign Medal and the World War II Victory Medal. He resumed his law practice and civic activities in Grand Rapids.
In August 1947, Ford met his future wife, Elizabeth (Betty) Bloomer Warren, through mutual friends. Less than a year later, Ford decided to run for Congress to represent his Michigan district (District 5). He and Betty were married in October 1948, a few weeks before his victory, which would sweep the newlyweds away to Washington, D.C. for the next 30 years.
Elected to the House of Representatives in 1948, Ford represented Michigan's 5th District for nearly 25 years before finding himself at the crossroads of history. He was elevated to vice president, and then became the 38th U.S. president in 1974 due to Richard Nixon's involvement in the Watergate scandal and subsequent resignation.
Ford's early presidency marked a state of tumult for the nation, with downfalls including an ailing economy, the ending of the Vietnam War, and an energy crisis. One of President Ford's first actions was granting Nixon a full presidential pardon. He was hoping to begin healing the deeply divided nation, but the short-term effect of this extremely controversial action was further polarization. Following in Nixon's footsteps with China, Ford was the first U.S. president to visit Japan. Challenged by fellow Republican Ronald Reagan during his campaign for re-election in 1976, Ford eked out the nomination, but was defeated by Jimmy Carter in the presidential election. Carter began his inaugural address by saying, "For myself and for our nation, I want to thank my predecessor for all he has done to heal our land."
In 1977, the Fords moved to a new house they built in Rancho Mirage, California. Ford continued to participate actively in the political process and to speak out on important issues. He published his memoirs in 1979.
Gerald Ford died on December 26, 2006, at home in Rancho Mirage, California, at the age of 93—the oldest any president has lived to date. Named in his honor are a presidential library in Ann Arbor, Michigan, and a museum in Grand Rapids. The home that belonged to Ford's grandparents in Nebraska was razed after a 1971 fire caused substantial damage. Today, the Gerald R. Ford Birthsite and Gardens marks the location of the house at 3202 Woolworth Avenue in Omaha.
Last updated: November 24, 2017