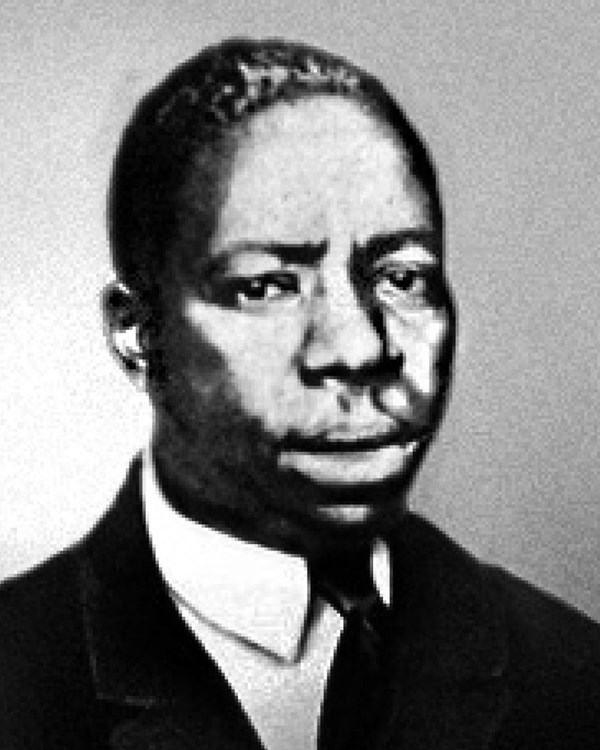 Significance:
World War Two Buffalo Soldier and Medal of Honor Recipient
Place of Birth:
Laurel, Mississippi
Date of Birth:
March 14, 1914
Place of Death:
Porlock Bay, New Guinea
Date of Death:
March 8, 1943
Place of Burial:
Body not recovered from sea
George Watson was born on March 14, 1914, in Laurel, Mississippi. He grew up just outside Starkville, Mississippi, the son of sharecroppers. He enjoyed fishing, swimming, and playing with his brothers. He excelled in school and showed great aptitude in math. However, there were not any options around Starkville at the time to advance his education.
In 1932, with the country in the grips of the Great Depression, Watson left Mississippi to be one less mouth to feed at the family's home. He moved in with his widowed grandmother in Birmingham Alabama. Although Birmingham was hit hard by the Great Depression, Watson got a job as a janitor at a private club, where he earned $624 a year.
After two years working as a janitor, Watson was looking for other opportunities to help save for college. In 1934, Birmingham had a large fire in a department store that caused more than $3 million dollars in damage. The national press coverage of the fire spurred a public investment initiative in the city, allowing the fire department to hire more firefighters. Watson saw this as his opportunity to earn money for college and be able to serve his community. He applied and was hired later that year.
Watson continued to save for school while working as a firefighter. In September 1939, Watson's dream of going to college finally came true when he had enough for two years of Engineering School at Colorado A&M, now known as Colorado State, in Fort Collins, Colorado. In 1942, Watson was doing well in college, but he didn't know what the future held as the United States was at war after the surprise Japanese attack on Pearl Harbor. 
Watson was drafted into the U.S. Army on September 1, 1942. He was sent to Camp Lee, Virginia for basic training. While at basic training, Watson was assigned to the Quartermaster Corps which was also stationed at Camp Lee. The Quartermaster Corps emphasized analytical skills, making technical decisions, and learning every aspect of military supply-point operations. Watson enjoyed the opportunity to use his engineering background and love of math.
Watson was assigned to the second battalion of the 29th Quartermaster (QM) Regiment. He and the rest of the unit were sent to Charleston, South Carolina, for final training before deployment. On December 27, 1942, the 29th QM Regiment, along with 10,000 other men, left Newport News, Virginia, and headed south to Port Cristobal, Panama. They were on their way to the war's Pacific Theater.
Watson traveled through the Panama Canal and across the Pacific Ocean on the USS Hermitage. Their initial destination was Brisbane, Australia. The trip from Newport News to Brisbane took about a month. Watson arrived in Australia on January 31, 1943. In early February, Watson and members of the 29th QM Regiment were transitioning to their new home at Port Moresby, New Guinea. They were part of an ongoing operation known as Operation Lilliput.
Operation Lilliput began in December 1942. It was a seaborne convoy operationferrying, troops, weapons, and other supplies in a regular transport service between Milne Bay and Oro Bay, New Guinea. The objective was to build up resources and supplies in anticipation of the U.S. Army's 32nd Division capturing the Japanese beachhead at Buna-Gona, New Guinea.
Watson was assigned to the U.S. Army Transport (USAT) Jacob. Watson and 165 other people were aboard the USAT Jacob in late February when they left the Sydney, Australia, harbor carrying troops, weapons, and medical supplies heading for Port Moresby, New Guinea. The convoy was dangerous; Japanese aircraft were targeting shipping lanes in the area.
At 1 p.m. on March 8, 1943, Watson was on deck taking in the fresh air when shipboard alarms started to sound. Thirteen nautical miles from Porlock Bay, New Guinea, two squadrons of Japanese bombers and fighter planes appeared. Although the convoy's escort ships were able to hold off the first wave of bombers, the second wave were able to get through to the Jacob. Three bombs made direct hits, propelling sailors and soldiers into the ocean and starting a fire on deck. The water pumps on board malfunctioned, making it impossible to extinguish the fire. The captain gave the order to abandon ship. Within minutes the Jacob was listing heavily to the starboard side, rapidly sinking. 
George Watson and his friend Sergeant James E. Guilford, Jr., jumped in the ocean to escape. Watson, a strong swimmer, refused a life jacket before jumping. Guilford did not know how to swim, and even with a life jacket, the 40-foot jump from the ship's deck pushed him deep under water. Watson dove down to grab his friend and assist him to a nearby raft. As Watson made sure Guilford was safe, he saw other soldiers in the water struggling to survive. Watson swam to them one by one and assisted them to rafts and other floating debris surrounding the sinking ship. Watson saved many men, but he was pushing exhaustion. 
Many of the men Watson saved were brought aboard HMAS Bendigo. Guilford encouraged Watson to come aboard but Watson refused—he had seen another soldier struggling in the wreckage of the Jacob. As Watson swam to the floundering man, the Jacob sank below the water line, causing a powerful vortex of suction that dragged Watson and the soldier into the ocean's depth. Watson never resurfaced. He and the other soldier died on March 8, 1943, and their bodies were never recovered.
On June 13, 1943, Watson was posthumously awarded the Distinguished Service Cross. He was the first African American to receive the award in World War II. Major General Harry F. Hazlett said, "George died in the shining splendor of high courage and utter selfishness, true to the best traditions of the American soldier, an inspiration to every real American," when he presented Watson's medal to his grandmother in Birmingham, Alabama.
Watson was posthumously awarded the Medal of Honor on January 13, 1997, when President Bill Clinton upgraded his Distinguished Service Cross. Because no members of Watson's family were living, Sergeant Major Gene C. McKinney accepted Watson's award. The medal is on display at the U.S. Army Quartermaster Museum in Fort Lee, Virginia, where Watson received basic training.
Private George Watson's Medal of Honor citation reads:
"For conspicuous gallantry and intrepidity at the risk of his life above and beyond the call of duty: Private George Watson distinguished himself by extraordinary heroism on 8 March 1943, while serving in the Pacific Command with the 2d Battalion, 29th Quartermaster Regiment, near Porlock Harbor, New Guinea. Private Watson was on board a troop ship, the Dutch Steamer (United States Army Transport) Jacob, when it was attacked and hit by enemy bombers. Before it sank, the ship was abandoned. Private Watson, instead of seeking to save himself, remained in deep waters long enough to assist several soldiers who could not swim to reach the safety of a life raft. This heroic action, which subsequently cost him his life, resulted in saving the lives of several of his comrades. Weakened by continuous physical exertion and overcome by muscular fatigue, Private Watson drowned when the suction of the sinking ship dragged him beneath the surface of the swirling waters. His demonstrated bravery and unselfish act set in motion a train of compelling events that finally led to American victory in the Pacific. Private Watson's extraordinary valorous actions, his daring and inspiring leadership, and his self-sacrificing devotion to his fellow man exemplify the finest traditions of military service."
Last updated: April 26, 2022