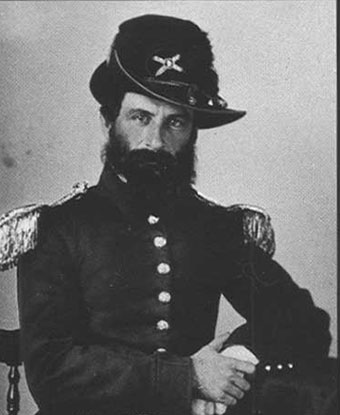 Significance:
Confederate army officer. Fired the first shot of the American Civil War.
Place of Birth:
Laurens County, South Carolina
Place of Death:
South Mountain, Maryland
Date of Death:
September 14, 1862
George Sholter James, the commander of the mortar battery that fired the first shot of the American Civil War, was born in Laurens County, South Carolina in 1829. He was the second son of a prominent attorney and merchant and spent most of his young life in Columbia, the state capital. At the age of seventeen, James left his college studies for the adventure of fighting in the Mexican-American War.
After hearing news of the growing hostilities between South Carolina and the federal government, James ended his four-year career in the US Army by resigning his commission. He volunteered as a captain with the South Carolina Artillery in Charleston. During the tense standoff with Fort Sumter, one of his duties was to carry messages between General P.G.T. Beauregard, commander of the Confederate forces in Charleston, and Major Robert Anderson, US Army commander of Fort Sumter.
In the early morning darkness of April 12, 1861, Captain Stephen D. Lee of General Beauregard's staff rowed out to Fort Johnson with orders to attack Fort Sumter. The honor of firing the first shot was offered to former Virginia congressman and Fire-Eater Roger Pryor. Pryor refused, and at 4:30 a.m. Captain George S. James ordered his battery to fire a 10-inch mortar shell, which soared over the harbor and exploded over Fort Sumter, announcing the start of the war.
After the fall of Fort Sumter, James enlisted and was quickly elected the commander of the 3rd South Carolina Battalion. After service along the South Carolina coast for a year, his battalion was ordered to Richmond, Virginia under Confederate Brigadier General Thomas F. Drayton. They were not seriously engaged until September 1862 when they were ordered to reinforce General D. H. Hill in Maryland during the Battle of South Mountain.
Late in the evening of September 14, Lieutenant Colonel James was twice warned by his second in command of his vulnerable position, and that death or surrender were inevitable if he persisted in holding his ground, but James ignored the advice. Just as the firing began to cease, Lieutenant Colonel James was pierced through the breast by a minie ball. The thirty-three-year-old James was presumed killed in action.
Last updated: January 9, 2020