Person
George B. McClellan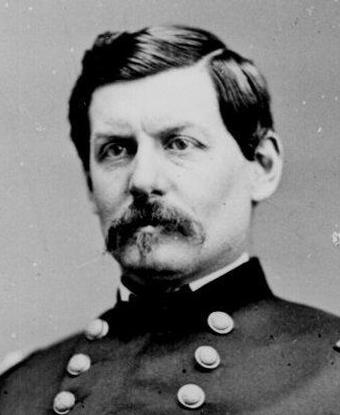 Significance:
General-in-Chief of the Union Army
Place Of Birth:
Philadelphia, PA
Date Of Birth:
December 3, 1826
Place Of Death:
Orange, NJ
Date Of Death:
October 29, 1885
Place Of Burial:
Trenton, NJ
Cemetery Name:
Riverview Cemetery
Appointed in 1861 by Ohio Governor William Dennison, West Point graduate George Brinton McClellan quickly rose from retired captain to major general in the Union army. In the fall of 1861 McClellan launched a small-scale invasion of western Virginia from his base in Ohio and enjoyed early successes at Philippi and Rich Mountain, which made his early reputation.
After the Union defeat at the First Battle of Manassas, President Lincoln appointed McClellan commander of the Union army, from which he created the Army of the Potomac. In early 1862, McClellan launched a second, much larger invasion of Virginia, this advancing on Richmond from the east, between the York and James Rivers. This offensive, known as the Peninsula Campaign, failed in its primary objective to take the Confederate capital and McClellan withdrew his forces to Washington D.C.
In the fall of 1862, his army was again on the move, pursuing an invading Confederate force under General Robert E. Lee. McClellan intercepted it at South Mountain and turned it back at Antietam, Maryland but at a terrible cost. After the battle, he failed to pursue Lee across the Potomac River and this, combined with his generally strained relationship with President Lincoln, cost him his position as General-in-Chief of the Army and then Commander of the Army of the Potomac.
McClellan opposed Lincoln as the Democratic Party candidate in the 1864 presidential election, advocating a peace platform, but was soundly defeated. He never received another military command, spending the post-war years as president of the Atlantic and Great Western Railroad, chief engineer of New York City, and governor of New Jersey, among other positions, before a premature death from a heart attack at age 58.
Last updated: November 11, 2018