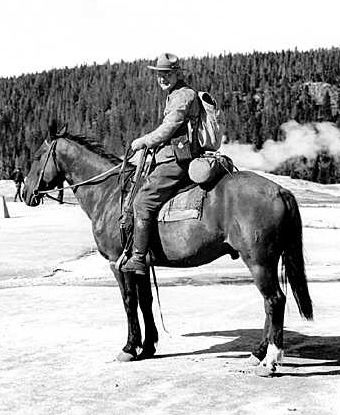 Quick Facts
Significance:

First official National Park Service photographer

Place of Birth:

Milton, PA

Date of Birth:

March 4, 1891

Date of Death:

1964
George Alexander Grant was the National Park Service's first photographer. During World War I, Grant enlisted in the army and was stationed in Wyoming. Grant fell in love with the beautiful landscapes in the West and, after the war, wrote to Yellowstone National Park to see if any ranger positions were open. He would not hear back until 1922, when Horace M. Albright offered him a ranger position for the summer. 
Over the summer of 1922, Grant taught himself photography and took pictures in Yellowstone. Once summer was over, he did not take a full-time ranger position. Instead, he decided to take photography courses in New York City. He kept in touch with Albright and other employees of the National Park Service, holding onto the hope that the Service would one day create a position for a photographer.
That day finally came in 1929. Albright became the NPS director, found funding, and created a staff photographer position for Grant. Grant took pictures for reports, public information, educational purposes, and any other reason the Service needed photos. He traveled primarily around the West and Southwest in his first few years as a staff photographer. In 1931, Grant received a promotion and became the Service's first chief photographer.
From 1929 until his retirement in 1954, Grant created more than 30,000 photographs of national parks. His photos included staff, events, landscapes, and architecture. He captured images of places many people had never seen before. Thousands of visitors came to national parks because of Grant's photography. His work was featured in a variety of places, but the credit line for the images did not feature his name. All images were credited to the National Park Service.
The National Park Service recognizes Grant as an "eminent photographer," a title given to photographers who have documented work and art that feature national parks. He also received the Meritorious Service Award from the National Park Service. His work has been seen by millions, though few people know his name. Though his work was previously overlooked, Grant's contributions to art, to the National Park Service, and towards documenting the stunning landscapes in the West and Southwest will never be forgotten.
Last updated: May 24, 2018