Person
Frederick Billings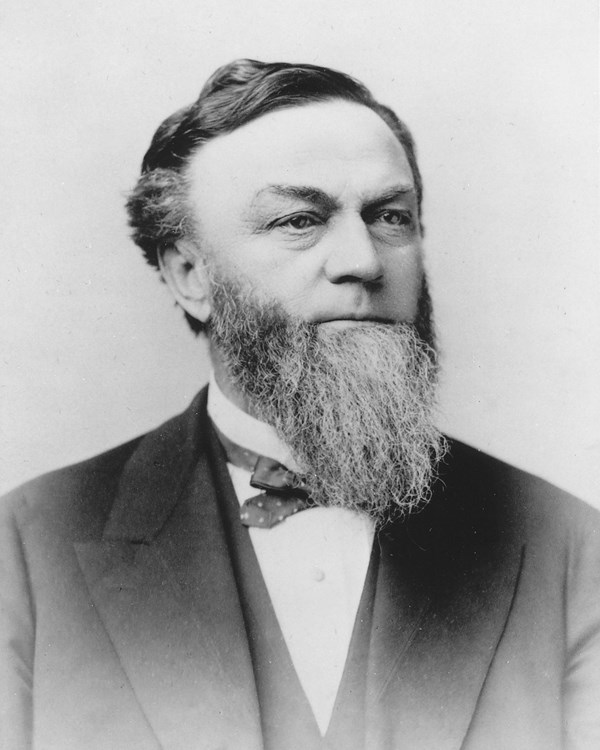 Significance:
President of the Northern Pacific Railway, 1879-1881
Place of Birth:
Royalton, VT
Date of Birth:
September 27, 1823
Place of Death:
Woodstock, VT
Date of Death:
September 30, 1890
Place of Burial:
Woodstock, VT
Cemetery Name:
River Street Cemetery
The writings of George Perkins Marsh had a profound impact on the life of Frederick Billings, the lawyer, businessman, and conservationist who would come to be closely associated with the development of the American West.
Born in Royalton, Vermont in 1823, Billings moved to Woodstock in 1835. Marsh himself had moved away, but the Marsh family farm was still one of the most beautiful in town. Billings grew up in sight of the mansion and Marsh's beloved Mount Tom. After studying at the University of Vermont, Billings became a lawyer and in 1849, the year gold was found in California, he went west to make his fortune.
He made it quickly, soon becoming a successful lawyer and real estate developer in San Francisco and one of the richest men in California. During his time in the West, Billings visited giant sequoia groves and the Yosemite Valley and became enamored of the dramatic landscape of the Western states. He started advocating the establishment of national parks in Yosemite, the upper valley of the Yellowstone River, and the areas that later became Glacier and Mount Rainier National Parks.
After Billings' marriage to Julia Parmly of New York, made Woodstock his home once again in 1865. But the years he had been gone had not been kind to the state he called home. Deforestation had virtually denuded the hills and valleys of Vermont and the bare, eroded land reminded him of similar devastation he'd seen in Gold Rush towns in California. When he read Man and Nature, Billings saw that Marsh's warnings about man's impact on nature were playing out in Vermont.
He also realized that local farmers were in trouble. Vermont's sheep-based economy could no longer compete with western ranchers now that the transcontinental railroad allowed easy access to eastern markets. Billings decided that Vermonters needed to adopt a new way of farming if they were going to survive.
In 1869, Billings bought the farm that had once belonged to the Marsh family, renovated the large Federal-style brick mansion and began buying up additional land. Soon he had established a scientifically managed herd of Jersey cows that other farmers could look to in running their own dairies. He decided to return Mount Tom to verdant forestland, using progressive forestry methods and planting European tree species that would thrive in his managed woodland park. He created a network of carriage roads and trails with scenic vistas from the forest. On his Woodstock estate Billings attempted to create a template for farming, timber harvest, and recreation, without ruining the land.
While he was improving his Woodstock property, he was also heading up the Northern Pacific Railroad and directing its successful transcontinental completion. During his tenure at the railroad, Billings advocated the promotion of Western scenery as tourist destinations, and the protection and reclamation of railroad lands through tree planting and experimental farming. By acquainting Americans with their country's natural wonders, he believed, he might inspire protection of these sites.
In 1881, Billings left the Northern Pacific Railroad to devote himself full-time to his Woodstock projects. He was aided in this work by George Aitken, a native Scot and accomplished farmer who managed the Billings Farm from 1884 until his death in 1910. A proponent of scientific agricultural techniques, Aitken became an invaluable member of the Billings estate staff, responsible for building the farm into a model of progressive dairying. Aitken was also appointed forest manager and helped Billings realize his dream of reforesting Mount Tom. They planted hardy European species that would thrive in the Vermont climate and developed the healthy forest and tree plantation that visitors see on Mount Tom today.
Frederick Billings put many of his ideas about forestry management into practice as a leading member of Vermont's forestry commission. The state began undertaking reforestation projects in line with Billings' and Aitken's vision and by the time Billings died in 1890, his state-of-the-art woodlots, dairy farm and creamery were well known across the country.
After Billings' death, his wife and daughters took over management of the farm and forest properties. With the help of George Aitken and business manager Samuel Kilner, these independent and accomplished women presided over renovations to the property and the expansion of the forest and farm operations.
Last updated: August 17, 2023