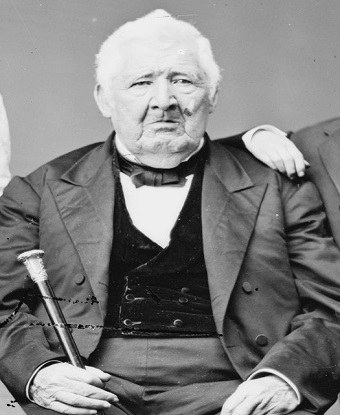 Significance:
Father-in-Law of Ulysses S. Grant
Place of Birth:
Cumberland, Maryland
Date of Birth:
October 6, 1787
Place of Death:
Washington, DC
Date of Death:
December 15, 1873
Place of Burial:
Saint Louis, Missouri
Cemetery Name:
Bellefontaine Cemetery
Frederick Fayette Dent was the father of Julia Dent Grant, father-in-law of Ulysses S. Grant, and the owner of the White Haven estate in St. Louis, Missouri for more than forty years. Born on October 6, 1787 in Cumberland, Maryland, Dent grew up in a wealthy family that owned several slave plantations throughout Maryland. When his father died in 1802, Dent moved to Pittsburgh, Pennsylvania, where he became a trader and businessman. He specialized in the fur trade with various Indian tribes between St. Louis and Pittsburgh, including the Sauk and Meskwaki (Fox) tribes. Dent also served as a non-commissioned officer in the War of 1812 and fought in the Battle of Bladensburg. 
After meeting his wife Ellen and starting a family, the Dents moved to St. Louis by 1819. Frederick Dent became a successful merchant and land speculator. The Dents originally rented a city home but soon accumulated enough money to purchase a second home twelve miles away in the St. Louis countryside the following year. Frederick Dent called this country home "White Haven," after one of his family's plantations in Maryland. As his wealth grew, Dent added land and purchased enslaved laborers to work the property. By 1830 White Haven was 850 acres and worked by eighteen enslaved African Americans (this number would increase to thirty by 1850). Signifiying his desired status as a Southern gentleman, Dent refered to himself as "Colonel," although he never held this rank during the War of 1812.  
Frederick and Ellen Dent had seven children who lived to adulthood and grew up at White Haven. A son, Frederick T. Dent, Jr., received an appointment to attend the U.S. Military Academy at West Point. During Fred's last year at West Point, he became roommates with fellow cadet Ulysses S. Grant. The two became close friends, and upon graduation in 1843 Grant was stationed at Jefferson Barracks, a military post five miles south of White Haven. Ulysses was invited to visit White Haven and soon became a regular visitor to the home. In February 1844 Grant met Fred's sister, Julia Dent, and the two quickly fell in love. Colonel Dent was initiatlly skeptical of the arrangement. He loved Julia's company and believed she was not prepared to be a soldier's wife. According to Julia, there was even one point when her father suggested that Ulysses be married to another daughter, Nellie Dent, rather than herself. Ulysses and Julia initially kept their engagement a secret, but Colonel Dent finally gave approval for the marriage a year later in 1845. Following the end of the Mexican-American War in 1848, Dent helped arrange Ulysses and Julia's wedding at his home in downtown St. Louis. 
Frederick Dent's status as a wealthy slaveholder influenced his political views. He was a strong supporter of President Andrew Jackson and friends with William Clark and Thomas Hart Benton, two of Missouri's most popular proslavery politicians. He also served on the finance committee of the St. Louis Anti-Abolitionist Society. This organization formed in 1846 to convince the Missouri State Legislature to pass stronger laws protecting the rights of slaveholders in the state. Dent was known within the family circle for avidly reading newspapers and discussing politics in the White Haven dining room. When Ulysses S. Grant lived at White Haven from 1854 to 1859, the two regularly discussed slavery and the possiblity of civil war in the United States.
About a month after the outbreak of the American Civil War in April 1861, Grant came to visit Colonel Dent at White Haven while mustering troops in nearby Belleville, Illinois. Ulysses reported to Julia that her father supported the Union, but was also opposed to any efforts by the federal government to prevent a southern state from joining the Confederacy. "Your father . . . is really what I would call a secessionist," according to Grant. As the Civil War continued, Colonel Dent refused to take a loyalty oath and argued to Julia that secession was constitutional. 
Frederick Dent was financially ruined by the end of the Civil War. The remaining enslaved laborers ran away from White Haven in 1864 and past debts caught up to him. A stroke shortly after the war also affected his health. By 1866 Colonel Dent moved to Washington, D.C. When his now-famous son-in-law took the oath of office to become 18th President of the United States in 1869, Dent moved into the White House with the Grants to live out his remaining years. He died at the White House on December 15, 1873 at the age of 86. 
Last updated: April 19, 2020