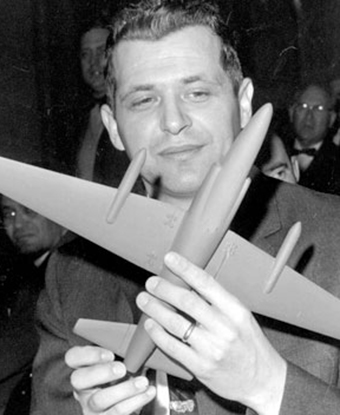 Quick Facts
Significance:

Gary Powers was an American pilot whose Central Intelligence Agency U-2 spy plane was shot down while flying a reconnaissance mission in Soviet Union airspace in 1960, causing an international incident.

Place of Birth:

Jenkins, Kentucky

Date of Birth:

August 17, 1929

Place of Death:

Los Angeles, California

Date of Death:

August 1, 1977

Place of Burial:

Arlington County, Virginia

Cemetery Name:

Arlington National Cemetery
Francis Gary Powers was born August 17, 1929, in Jenkins, Kentucky. His family eventually moved to Pound, Virginia.
Upon graduating from Milligan College in June 1950, powers enlisted in the Air Force in October. He was commissioned as a Second Lieutenant in the United States Air Force in December 1952 after completing his advanced training. Powers was then assigned to Turner Air Force Base, Georgia, as an F-84 Thunderjet pilot.
In January 1956 he was recruited by the CIA. His training was complete by August 1956 and his unit, the Second Weather Observational Squadron, was deployed to Turkey. By 1960, Powers was already a veteran of many covert aerial reconnaissance missions.
 
The U-2 Incident
Powers was discharged from the Air Force in 1956. He then joined the CIA's U-2 program; U-2 pilots flew espionage missions at altitudes above 70,000 feet, above the reach of Soviet air defenses. The U-2 was equipped with a state-of-the-art camera designed to take high-resolution photos from the edge of the stratosphere over hostile countries, including the Soviet Union. U-2 missions systematically photographed military installations and other important sites.
The 1960 U-2 incident occurred on 1 May 1960, during the presidency of Dwight D. Eisenhower, when a United States U-2 spy plane, flown by Central Intelligence Agency pilot Francis Gary Powers, was shot down while in Soviet airspace. The aircraft was performing photographic aerial reconnaissance when it was hit by a surface-to-air missile and crashed near Sverdlovsk. Powers parachuted safely and was captured.
Initially the United States government tried to cover up the plane's purpose and mission, but was forced to admit its military nature when the Soviet government came forward with the captured pilot and remains of the U-2 including spying technology that had survived the crash as well as photos of military bases in the Soviet Union taken by the aircraft. Coming roughly two weeks before the scheduled opening of an east–west summit in Paris, the incident was a great embarrassment to the United States and prompted a marked deterioration in its relations with the Soviet Union. Powers was convicted of espionage and sentenced to three years of imprisonment plus seven years of hard labor but would be released two years later on 10 February 1962 during a prisoner exchange for Soviet officer Rudolf Abel.
 
Was Francis Gary Powers a POW?
At the time Powers was shot down, the United States was not engaged in armed conflict with the U.S.S.R, and pilot Powers was working for the U.S. Central Intelligence Agency (CIA). But in 1998, newly released classified documents showed that his flight was a joint mission of the CIA and the U.S. Air Force. In 2000—forty years after his capture—the U.S. Armed Forces officially recognized Powers with the Prisoner of War Medal, the Distinguished Flying Cross, and the National Defense Service Medal. Sadly, Powers himself never saw his medals: He died in 1977 in an air crash while piloting a TV news helicopter in Los Angeles.
Last updated: December 27, 2017