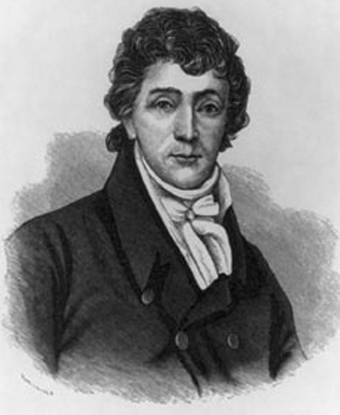 Quick Facts
Significance:

Author of the National Anthem

Place of Birth:

Middleburg, Maryland

Date of Birth:

August 1, 1779

Place of Death:

Baltimore, Maryland

Date of Death:

January 11, 1843
Despite a successful career as a Washington, D.C. lawyer and service as the United States District Attorney, Francis Scott Key could easily be a name lost to history. Instead, he is renowned as author of one of the most famous poems in American history.
Key was born on August 1, 1779, in western Maryland on a family estate called "Terra Rubra." He attended grammar school in Annapolis, and continued on to study law while apprenticing with an uncle's law firm. By 1805, he had a well-established law practice of his own in Georgetown, a suburb of Washington, D.C., and was appointed the United States District Attorney in 1833.
The law was only one of Key's interests. He was a deeply religious man, and at one time in his life considered giving up his law practice to enter the ministry of the Episcopal Church. Because of his religious beliefs, Key was strongly opposed to the decision to go to war in 1812. But deep love for his country overrode this, and he served for a brief time in 1813 in Captain George Peter's Georgetown Light Field Artillery.
But Key's greatest service to the war effort would come in 1814. Prominent Washington physician Dr. William Beanes was taken prisoner by the British following the capture of Washington on August 24, and Key was asked to secure his release. Key made his way to Baltimore, and on September 5, 1814, sailed in a small flag-of-truce vessel out of the port of Baltimore with Colonel John Skinner to negotiate prisoner exchange with the Royal Navy.
The British officers aboard the flagship HMS Tonnant were kind to Key and Skinner, and agreed to release Dr. Beanes. However, as the negotiations had been taking place, the Battle of Baltimore had begun. The three Americans were kept in the harbor and from a distance of approximately eight miles, watched the bombardment of Fort McHenry.
What happened next became legend. After 25 hours of continuous bombing, the British abandoned their attack and retreated. Key scanned the sky in the morning following a night of attacks for clues as to what had happened. To his surprise and relief, the American flag was still flying! Overjoyed and inspired by patriotism, he quickly penned the words to a poem called "The Defence of Fort McHenry." The first stanza of this poem is well-known to Americans as the lyrics to the national anthem, "The Star-Spangled Banner."

After the war, Francis Scott Key continued to live a very religious life. He was well-liked by his friends and was active in his community and especially his church. Key remained an amateur poet throughout his life, writing poems especially with religious themes. Although his best-known poem was published in 1814, the rest of his poems were not published until 14 years after his death. Key died of a lung infection on January 11, 1843, while visiting his daughter in Baltimore.
Last updated: June 18, 2015