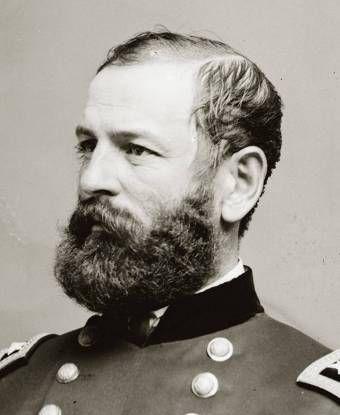 Significance:
Union Corps commander
Place of Birth:
Portsmouth, NH
Date of Birth:
August 31, 1822
Place of Death:
Morristown, NJ
Date of Death:
May 21, 1901
Place of Burial:
Brooklyn, NY
Cemetery Name:
Green-Wood Cemetery
Fitz John Porter was a West Point graduate, Mexican-American War veteran and U.S. Army officer whose career was destroyed in the aftermath of the Union army's defeat at the Second Battle of Manassas. 
When the war began, Porter was commissioned a colonel in the 15th U.S. Infantry but was soon promoted to brigadier general and placed in command of a division of the Army of the Potomac. On July 4, 1862, in recognition of his admirable performance as commander of V Corps during Peninsula Campaign, Porter was promoted to major general of volunteers. Porter's corps was then sent to reinforce Maj. Gen. John Pope's Army of Virginia. 
However, Porter was openly hostile toward Pope, so when the two generals repeatedly clashed over the disposition of troops at the Second Battle of Manassas, and the battle ended in disaster, Porter's court martial was inevitable. Porter was found guilty of disobedience and misconduct, and he was dismissed from the Army on January 21, 1863.
After his dismissal, Porter became involved in various business enterprises and served alternately as New York City's Commissioner of Public Works, Police Commissioner and Fire Commissioner. In 1878, a special government commission exonerated Porter when it found that the general's reluctance to attack Longstreet's forces on August 30, 1862 probably saved Pope's Army of Virginia from an even greater defeat. Eight years later, President Chester A. Arthur formally reversed Porter's 1863 conviction and Congress restored Porter's commission as an infantry colonel in the U.S. Army, backdated to May 14, 1861, but without back pay. Vindicated, Porter retired from the army on August 7, 1886.
Last updated: June 17, 2015