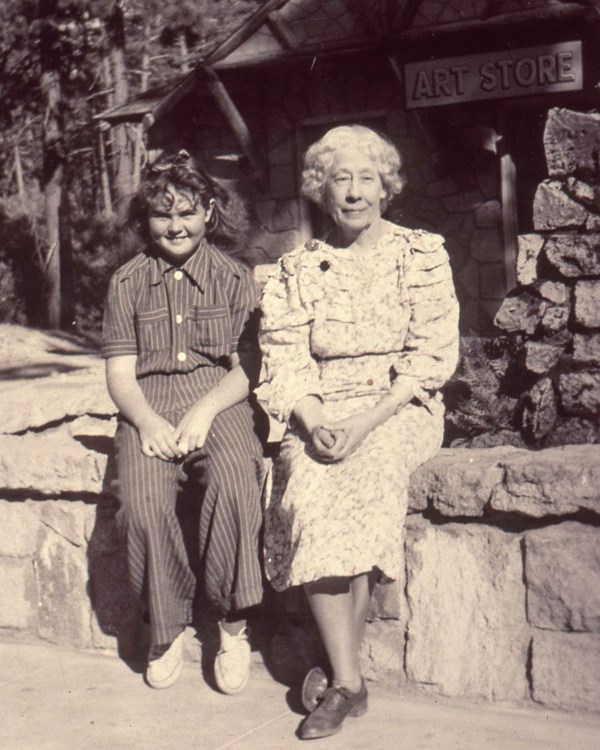 Significance:
Co-created and donated the Loomis Museum
Date of Birth:
January 8,1870
Place of Death:
California
Date of Death:
December 26, 1953
Place of Burial:
Shingletown, CA
Cemetery Name:
Ogburn Inwood Cemetery
Estella Loomis was one of Lassen's first interpreters and a major park benefactor. Estella and her husband, Benjamin F. Loomis, ran a hotel in Viola and frequented the Manzanita Lake area prior to the park's establishment. In 1914, Benjamin photographed a series of eruptions of Lassen Peak. The photographs drew national attention to the area and supported efforts to establish the proposed national park.  
In 1927, the Loomises constructed a museum on their 40-acre tract of land in the Manzanita Lake Area. Built in honor of their only daughter who had died seven years earlier at the age of 21, the museum showcased Benjamin's photograph collection. A back wing featured mounted animal displays with pictures Benjamin took and Estella hand-tinted in the background.  
Two years later, Benjamin and Estella signed the deed granting their 40-acre land (including the museum and seismograph building) to the National Park Service. The couple lived in a small home next to the museum (present day Loomis Ranger Station) on a small portion of the granted land that also held a photo and art store where they sold film, cameras, pictures, and postcards. 
Estella and Benjamin greeted visitors at their art studio or the museum and sometimes gave lectures based on the mounted photograph collection. After Benjamin passed away in 1935. Upon her death in 1953, Estella donated the Loomis House to the park.
View a photograph of Lassen Peak in eruption by Benjamin F. Loomis and hand-tinted by Estella Loomis.  
Last updated: August 20, 2020