Emory Upton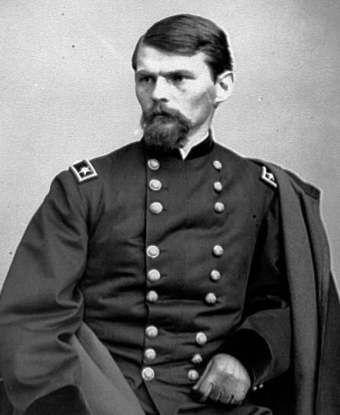 Quick Facts
Significance:

Major General

Place Of Birth:

Batavia, NY

Date Of Birth:

August 27, 1839

Place Of Death:

San Francisco, CA

Date Of Death:

March 15, 1881

Place Of Burial:

Auburn, NY

Cemetery Name:

Fort Hill Cemetery
Emery Upton successfully commanded artillery, cavalry and infantry units in the Union army during the Civil War. Although distinguishing himself numerous times in the field, Upton is perhaps best remembered for his work on military strategy and tactics, posthumously published in 1904 as "The Military Policy of the United States." Upton's book, based on both his experience as a Union commander and his study of European and Asian military establishments, analyzed American military policies and practices and presented the first systematic examination of the nation's military history. In "Military Policy" Upton advocated for a strong, standing regular army, a general staff system, promotions through examinations, advanced military education, and for severing civilian influence on the battlefield.

Upton graduated from West Point in May 1861. He was wounded while serving at the First Battle of Bull Run, but refused to leave the field. In 1862, Upton commanded artillery units during the Peninsula Campaign, Seven Days' Battles and Maryland Campaign. He led regimental and brigade units at Fredericksburg and Gettysburg, respectively, and was cited for gallant service at Rappahannock Station in November 1863, earning a brevet promotion to major in the regular army.
While commanding infantry units during the Overland Campaign in 1864, Upton developed a revolutionary tactic to breakthrough an entrenched enemy line by deploying swift-moving columns of massed infantry against a small portion of the enemy line without pausing to exchange fire. At the time, both sides used the standard French tactic of employing a slowly moving wide battle line, which fired at the enemy as it advanced forward. Upton's columnar assault tactic worked brilliantly during Maj. Gen. Winfield S. Hancock's II Corps attack on the Confederate Mule Shoe salient on May 12, 1864.

After recovering from wounds received at the Third Battle of Winchester, now-General Upton closed out the war as a cavalry commander.
Last updated: June 17, 2015