Emma Kelly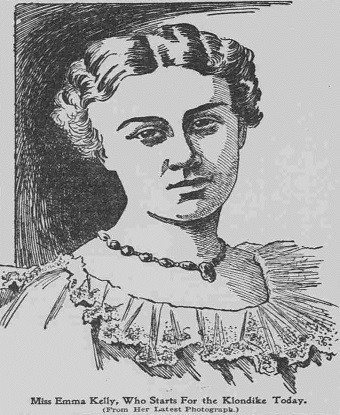 Quick Facts
Significance:

Klondike Gold Rush

Place of Birth:

Howard, Kansas

Date of Birth:

1873
Starting the Journey
Emma left Seattle and first landed in Juneau, Alaska, where she then traveled up the Lynn Canal to
Dyea
. The people she encountered had told her that she was too late to start over the trail to Dawson, it was too late in the year and many men did not think she could handle the journey. She was unable to get experienced packers so she got 10 deckhands from the steamships to pack for her, promising food and 50 cents per pound for all they carried over to Lake Lindeman. The weather on the hike to
Sheep Camp
proved to be quite the challenge. Emma and the packers faced blizzard like conditions on their hike, some of her men wanted to turn around but she told them they could make the trip if she could, and so she held them to their contracts. Determined, Emma overcame doubts about her being able to make it over the trail.
Once at Lake Lindeman, Emma walked around and observed various stages of stampeder's boat building progress. At one tent she met a man who was in a party of 22 men and three boats planning on heading out the next day for Dawson City. Upon talking with the whole company she proposed to them her business and asked to travel along. The men were uncertain they could fit Emma along with her thousand pounds of goods, and her Newfoundland dog "Klondike" she had brought from the states. However the men were nearly out of money to pay Canadian customs duties so they agreed to bring her along for passage of $125 (about $3,560 in 2016).
On the River
Afraid that the men in her outfit might find her a nuisance, Emma never complained or asked for any assistance from them on the journey. The next day they set out from Lake Lindeman and made it to Lake Bennett on October 6th where they camped for two days. When the outfit made it on the Yukon River their first test was at Miles Canyon where the current became swift just before reaching Whitehorse. This stretch of river would later be known for wrecking boats and taking lives of unskilled pilots. Emma announced that she would ride the rapids in the boat, even after being told that no man ever consented to taking a woman through the rough waters. She would later write of the experience:
"I wanted to see and experience this so-called danger, which men freely court, but which women may only read or hear of."
After making a successful run of the rapids the first time, Emma got out and hiked back to ride through on the second boat. While walking back Emma slipped on some ice along the trail and fell 15 feet down a cliff hitting her head and rendering her unconscious. Her dog, Klondike, alerted the men in her outfit by barking and jumping around. When the men reached her and revived her she was still determined to ride through the canyon again.
Once the group was past Miles Canyon they came to White Horse Rapids, which looked much more dangerous than what they had just passed through. Emma recounted this in an article written for Lippincott's Monthly Magazine:
"The rapids looked much more dangerous than those at the canyon…. As for the ride through, I do not know when I ever enjoyed anything so much in my life. I snugly stowed myself away in the prow of the boat, the men got ready, the word was given, the line cast loose, and we were off...; the wild waves rocked and rolled our boat and occasionally broke over us. The spray rose so thick and high we could not see the shore, the very air seeming a sea of misty spray. It was simply glorious. All too soon we rowed into comparatively smooth yet rapid water. A few more strokes of the oars send us to the shore and the ride was over, leaving a sensation never to be forgotten."
Emma took a second ride through White Horse Rapids as well, this time taking up an oar to assist. She received a hearty congratulations from the men around her claiming she was the first woman to take up an oar riding through the White Horse.
The rest of the trip down the Yukon River for Emma and the outfit saw dropping temperatures and drift ice getting thicker the further north they traveled. There was a concern that the ice may grow too thick and the boats would freeze over and be blocked in for the winter. Everyone was determined to make good time with the days getting shorter so they ate most meals in the boat and at night slept in the snow on the banks of the river, occasionally using cuttings of spruce boughs for bedding.
When they reached Fort Selkirk the men traveling with Emma wanted to stop the journey, get a cabin, wait out most of the winter and then sled their way over the snow to Dawson City. Emma convinced them otherwise, she reminded them that she paid $125 for passage to Dawson and urged them to continue on.
In Dawson City
They arrived in Dawson City on November 1st, 1897, the river was nearly impassible and the next day completely froze over for the winter. When the boats were docked on the evening of November 1st they set up their tents and the men wanted to celebrate, Emma put up money to purchase a few bottles of whiskey. While the men were drinking and celebrating Emma got out her guitar and led everyone in singing songs of home.
While living and working in Dawson City Emma Kelly would ride out that first winter by sled to various mining camps and check on the situations at hand. She reported that over the winter in Dawson City daily wages were dropping, there were such large numbers of people in Dawson that it drove down the price for work. Winter wages decreased from $15/day to $6, $8, and $10.
In Dawson, Emma became a member of the Arctic Press Club, consisting of 14 men and herself. Despite the reports of dropping wages citizens in Dawson still came out to have some fun over the winter. The Arctic Press Club held balls in town that got a large turnout.
Emma ended up owning two mines in the Klondike, one at Dawson City and one at Circle City which she acquired in her first few months. In a letter published in The Kansas City Star on April 27, 1898 Emma mentions her claim:
"The miners and all around here call me the 'Skookum Queen.' I am the only girl holding property on the gulch. The following is my address: Emma Leonidus Kelly, No. 5. above Bonanza creek. Klondike district, Dawson City, N.W. Territory."
False Rumors
In January of 1898 the Kansas City Journal and the Topeka State Journal, newspapers in Missouri and Kansas started reporting on her getting married to one of the wealthiest men in the Klondike. Her parents had not heard word from Emma in her letters confirming any of these rumors. Word reached back to Dawson at which point Emma sent a telegram in February 1898 stating that she was still unmarried and in the best of health. Throughout her time in the Klondike a variety of rumors were published about Emma Kelly, yet it does not appear that many male reporters had to deal with these types of false reports.
Once the gossip started to slow down during the spring of 1898, Kansas newspapers started to report on her adventures in the Klondike by using letters Emma had written to her family.
Later Life
Emma Kelly returned home to Kansas in October of 1898, after spending a full year in the Klondike. The newspapers in Kansas and Missouri were all abuzz about her return. Many were citing that the gold claims she held were worth $50,000 or more. When she finally landed in Topeka she gave many lectures over her adventures in the gold rush. Emma completed a series of articles for Harper's Weekly and prepared a series for the Ladies Home Journal.
By June of 1899 she was packing up and heading back to Dawson City once again to check on her gold claims. Upon her return she recalled that Dawson City had grown tremendously and looked much more civilized than when she first arrived in November of 1897.
In 1901 Emma wrote a story for Lippincott's Monthly Magazine detailing her original journey north. Years later after her return home when mentioned in newspapers she was often referred to as, "Emma Kelly, of Klondike fame."
In an era when there weren't many female reporters, Emma was up for the challenges that many women faced when heading North. She was headstrong and had adventures on her own terms instead of following the conventional idea of what women were "supposed" to be doing at the time.  The Klondike Gold Rush happened at the end of the Victorian era, a time when women started to break the mold of society. Emma Kelly was one of those Klondike Women breaking the mold and creating her own path in life.
Last updated: August 8, 2018