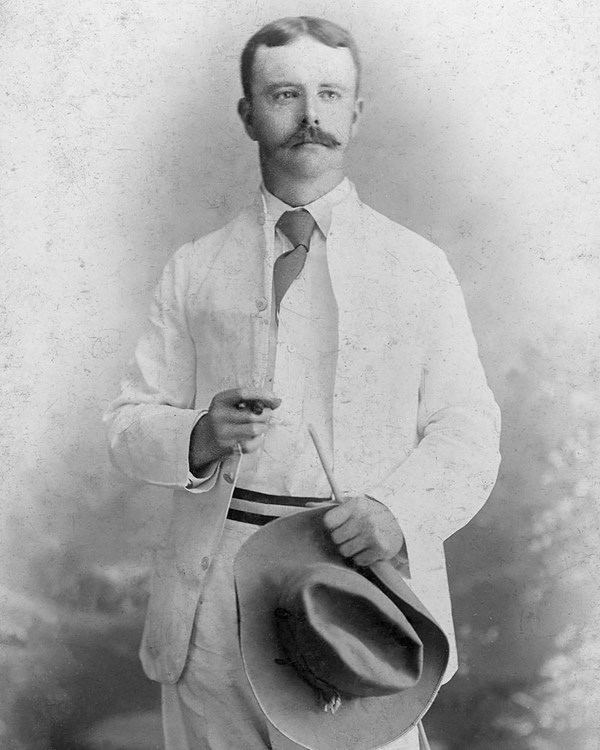 Significance:
American Socialite
Place of Birth:
New York, New York
Date of Birth:
February 28, 1860
Date of Death:
August 14, 1894
Place of Burial:
Tivoli, NY
Cemetery Name:
St. Paul's Episcopal Church Cemetery
Elliott Bulloch Roosevelt (1860-1894) was the third child of Martha Bulloch and Theodore Roosevelt Sr. He was a younger brother of future president Theodore Roosevelt, the father of Eleanor Roosevelt, and godfather of Franklin D. Roosevelt.
As a child, Elliott suffered seizures. Despite poor health, he was active and competitive—Theodore's journals document frequent competitions of physical ability between the two brothers. Elliott was the more academically successful and appeared to be the most promising of the four Roosevelt children, but that would change in time. Throughout his life, Elliott maintained a pleasant, but volatile personality bent on self-destruction. 
The Roosevelt children were schooled at home, as was customary for families of their position. At the age of nine, the family embarked on a year-long grand tour of Europe. The next year, the family journeyed through Egypt, the Holy Land, and eastern and central Europe. Upon returning home, Elliott's education resumed both abroad and in the south, before he eventually attended the prestigious St. Paul's School in Concord, New Hampshire. Elliott's seizures continued. He suffered from severe headaches and dizzy spells. His father believed physical activity and an austere lifestyle would be the best cure, so at the age of sixteen, Elliott was sent to Fort McKavett, the well-known frontier outpost in Texas and home to the famous cavalry troop known as the Buffalo Soldiers. Here, Elliott learned to shoot, ride, and camp. He was entertained with legends of the Mexican War and the frontier. The rugged life suited Elliott. He would become an accomplished polo player, sailor, and adventurer.
When Elliott returned to New York, his father became gravely ill. A devoted son, Elliott tended to his father's daily care. Theodore Sr. died on February 10, 1878. The loss of his father's love and support, weakened Elliott's stability. He spent two years out west and then travelled through India and the Himalayas, one of the first Americans to travel extensively throughout those places. His adventures were chronicled in the article "Hunting Trip in India," excerpted from his diary and published posthumously by his brother Theodore. In India, Elliott was surrounded by New York friends, many of them hard-drinking, dedicated sportsmen accustomed to privilege.
When Elliott returned from India, he was expected to settle, find direction, and seek employment. At the age of 23, he met Anna Rebecca Hall, an acknowledged beauty of New York society and descendant of two eminent, wealthy families—the Livingstons and the Ludlows. The couple were married on December 1, 1883. The New York Herald described their wedding as "one of the most brilliant social events of the season." Anna's great beauty and Elliott's tales of his adventures made them a popular couple. They lived a life of exclusive clubs, attending cotillions, the opera, and participating in all rituals of New York society. Elliott and Anna had three children—Anna Eleanor (1884), Elliott Bulloch (1889), and Gracie Hall (1891). 
Soon after his marriage, Elliott secured employment with the Ludlow family's premier real estate establishment. Elliott's family hoped that Anna would provide stability. But he was unprepared for adulthood, and despite good intentions, Elliott lived a reckless life. His marriage with Anna showed signs of weakness early on due to his depressive nature and growing drinking problem. After only three years, he resigned his post at the Ludlow firm, and his life became characterized by a series of short-lived fresh beginnings, marked by family trips abroad, or seeking treatment in asylum. Things worsened in 1889, after he broke a leg and became addicted to taking large quantities of morphine and laudanum. After Elliott spent some time in a French asylum, he and Anna separated. He was devastated when Anna died in 1892, soon followed by the death of his son Elliott Jr. in 1893. The succession of traumatic events led him into an even steeper decline. At the age of 34, Elliott attempted suicide by jumping out a window. He survived the fall but suffered a seizure and died on August 14, 1894, leaving his young daughter Eleanor and her brother Hall orphans to be raised by family. 
 
---
Sources
The Eleanor Roosevelt Papers Project
David B. Roosevelt, Grandmère: A Personal History of Eleanor Roosevelt. (2002)
Joseph P. Lash, Eleanor and Franklin (1971)
Blanche Wiesen Cook, Eleanor Roosevelt, Volume One (1992)
Last updated: June 23, 2021