Person
Ellen Wrenshall Dent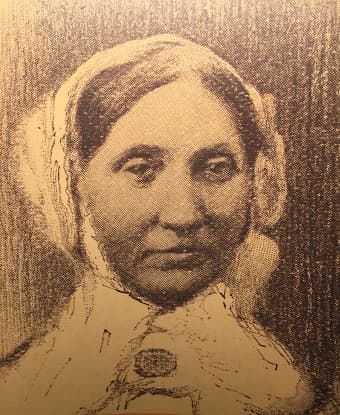 Significance:
Mother-in-Law of Ulysses S. Grant
Place of Birth:
City of Preston, Lancashire, England
Place of Death:
Saint Louis, Missouri
Date of Death:
January 14, 1857
Place of Burial:
Saint Louis, Missouri
Cemetery Name:
Bellefontaine Cemetery
Ellen Wrenshall Dent was the mother of Julia Dent Grant and the mother-in-law of Ulysses S. Grant. Little is known about her life except for what her daughter Julia Dent Grant recalled in her Personal Memoirs. 
Ellen Wrenshall was born in England in 1793, but at a young age her family moved to Pittsburgh, Pennsylvania. According Julia Grant, Ellen was an avid horseback rider who would travel from Pittsburgh to Philadelphia to attend boarding school as a young girl. Ellen met and fell in love with Frederick Dent, a trader who had come from a prosperous Maryland family, while living in Pittsburgh. They married and began raising a family, but moved to St. Louis, Missouri in 1819. 
Frederick and Ellen Dent initially lived in St. Louis city but purchased White Haven in 1820 as a summer home in the countryside, twelve miles from the downtown area. By 1827 the Dents had moved to White Haven full time, much to the chagrin of Ellen Dent. "My mother hated the country and this place especially," Julia Grant recalled, "feeling that all the sacrifices of society and friendship she had made on leaving her eastern home were lost." Ellen nevertheless adjusted to life at White Haven. "Mamma, like my father, was a great reader, fond of poetry and music. She was beautiful, kind, and gentle. She spent much time in reading aloud to us her favorite authors, calling our attention to some passage that pleased or touched her. She loved to hear us sing her favorite old ballads to Emmie [Dent]'s guitar as we sat on the piazza in the summer moonlight," according to Julia.
The Dent family owned upwards of thirty enslaved African Americans, several of whom worked under the close eye of Ellen Dent as they completed the domestic work of cooking at and cleaning White Haven. Ellen "trusted her servants," Julia Grant argued. "Frequently, Kitty, one of mamma's devoted maids, received her orders and carried them out perfectly." 
Ellen Dent's hospitality was well-received by a young Ulysses S. Grant, and the two developed a close relationship. When Grant was first stationed with the 4th U.S. Infantry at nearby Jefferson Barracks in 1843, he made a habit of coming out to White Haven on a weekly basis to visit the Dents for dinner. When Julia returned to White Haven from boarding school in early 1844, she fell in love with Ulysses and, as Grant later recalled, his visits to the home "became more frequent." Ellen also welcomed Ulysses' with open arms when he resigned from the U.S. Army in 1854 to try his hand at farming at White Haven. 
The Grant family's years at White Haven (1854-1859) were marked by struggle and hardship. Ellen Dent nevertheless maintained a strong confidence in her son-in-law's abilities. As political debates about slavery filled the newspapers and the newly-formed Republican Party campaigned on the idea of banning slavery's westward expansion in the summer of 1856, the Grants and Dents sat outside one day to discuss politics. According to Julia Grant, Ellen made a bold prediction: "My daughters, listen to me. I want to make a prophecy this Sunday afternoon. Remember what I say. That little man [Grant] will fill the highest place in this government. His light is now hid under a bushel, but circumstances will occur, and at no distant day, when his worth and wisdom will be shown and appreciated. He is a philosopher. He is a great statesman . . . I have been sitting on the piazza for the last half hour listening to those men talking without the least enlightenment on this important subject, until Captain Grant, in a few sentences, made the subject so clear and our duty so plain that I pronounce him a statesman and philosopher." 
Ellen Dent developed a severe upper respiratory illness in late 1856. Grant wrote to his father on December 28th that "Mrs. Dent has been at the point of death for the last two weeks, but is now much better and will recover." Unfortunately Grant's prediction was incorrect. Ellen Wrenshall Dent passed away on January 14, 1857 at the age of 63 from what was most likely tuberculosis. Nevertheless her "prophecy" about her son-in-law's future success became true. 
Last updated: July 31, 2020