Person
Elizabeth Thacher Kent: Suffragist, Jailbird and Biographer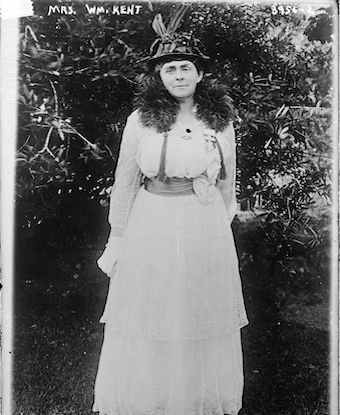 Significance:
Suffragist, Environmentalist
Place of Birth:
New Haven, CT
Date of Birth:
September 22, 1868
Place of Death:
New Haven, CT
Date of Death:
August 14, 1952
It is rarely mentioned that the other name on the deed of the Redwood Forest when it was purchased in 1903 is that of Elizabeth Thacher Kent, who was a full co-owner of the property. Elizabeth was in many ways an even more daring political figure, risking arrest to fight for the woman's right to vote.
One of the reasons we know a lot more about her husband William – aside from the obvious male bias of history from that era – is that, as the family historian, Elizabeth compiled her William's papers and wrote a several hundred page biography of her husband. Her own autobiography merits less than two dozen pages.
Yet Elizabeth was a visionary activist in her own right, becoming a leader in both the California and the national suffrage movements.
In California, Elizabeth was one of the society women who founded and led suffrage organizations. As one San Francisco paper wrote, "At the weekly meeting of clubwomen at Tamalpais Center, Mrs. William Kent, wife of the congressman, presided over a suffrage session held under the auspices of the Clubwomen's Franchise League of San Francisco. Many prominent members of the Ross and San Rafael smart set were present and men well known in business and social circles urged the right of women to vote."
But Elizabeth was not content with social events and parlor discussions. She emphasized the hard work of organizing to win the right to vote. She wrote: "It took courage in those days to speak on suffrage at every gathering where opportunity offered; to distribute literature at public meetings and clubs; on trains and streetcars; to put up posters; to speak from automobiles in little towns; to wear suffrage badges and to engage in conversation on the subject with friend or stranger wherever that timely word would count."
Her efforts were successful. California women won the right to vote in 1911, almost a decade before the federal amendment was passed. After that victory, Elizabeth moved to Washington, D.C. with her children to join her husband who was in Congress – and brought her suffrage advocacy to the national stage.
Elizabeth lobbied members of Congress, testified twice before congressional committees, and campaigned around the country – from Chicago to Oregon -- marching in demonstrations and giving speeches at rallies.
When those efforts failed to gain passage of the suffrage amendment, Elizabeth joined other members of the National Women's Political Party at protests in front of the White House. She was arrested twice – and her husband, who was campaigning for President Wilson's re-election, paid her bail. As Elizabeth wrote, "However little he liked to have his wife take the political stand that she did, and he certainly did not like it at all, he could never ask her to depart from her own convictions."
After a year of militant organizing, picketing, rallies and arrests, President Wilson was forced to change his mind. He gave a speech to Congress urging ratification of the Suffrage Amendment.
Though 1920 was a disastrous year for William Kent's political career (he lost his bid for the U.S. Senate), it was a time for them both – and especially the suffragist leader Elizabeth – to celebrate the addition of the Nineteenth Amendment to the U.S. Constitution, granting universal suffrage to women in the United States.
Last updated: July 26, 2022