Person
Eliza Ballou Garfield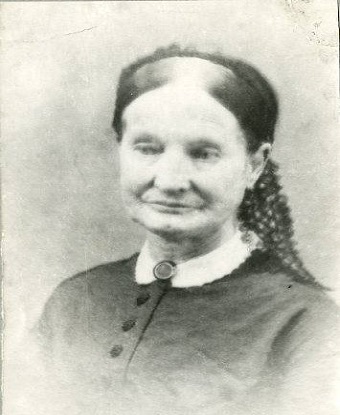 Significance:
Mother of 20th President James A. Garfield
Place of Birth:
Richmond, Cheshire County, New Hampshire
Date of Birth:
September 21, 1801
Place of Death:
Mentor, Lake County, Ohio
Date of Death:
January 21, 1888
Place of Burial:
Solon, Cuyahoga County, Ohio
Cemetery Name:
Roselawn Cemetery
Eliza Ballou was born on September 21, 1801. Her parents were James Ballou and Mehitable Ingalls. Her father was a talented mathematician and clairvoyant, known as "James the Astrologer." He ran a public house before his sudden death after a fall in his barn in April, 1808. Her mother Mehitable was described as a plucky, red-haired woman and a skillful weaver. Eliza was described as unusually attractive, petite, sprightly, industrious, intelligent, and a tireless spirit of activity.
Eliza became acquainted with her future husband, Abram Garfield, when asking him for directions. She denied any interest in the "green boy," but was soon smitten with the strong, handsome man Abram had become. He and her sister Hitty were promised to each other before the Ballou family moved west to Muskingum County, Ohio. After three years Abram would follow, only to find out that Hitty had already married a cousin. Within three months of reuniting, Eliza and Abram were married on February 3, 1820 in Perry Township, OH. They traveled north into Cuyahoga County where Abram farmed. When work began on the Ohio and Erie Canal, Abram obtained a contract to build a section of this great waterway. Eliza prepared meals for all the construction workers and sang songs in the evenings to keep their spirits high. She was known to have a lovely voice and knew many tunes.
The Garfields had four children in quick succession: Mehitabel in 1821, Thomas in 1822; Mary in 1824; and James Ballou in 1826. Their youngest, James Ballou, died at the age of two. Eliza was alone with her children one January night in 1829 when young Jimmy was taken with a fever and died in her arms.
Eliza became quite despondent after losing her youngest child, but she found comfort in her new religion, the Disciples of Christ. When she realized that she was to have another child, she hoped and prayed for a son to take the place of the one she had lost. The new baby was given the name of the son that died, plus his father's name. James Abram Garfield was born on November 19, 1831, and Eliza knew he was destined to be great and good. The family's happiness in their new home in Orange Township would be brief. When a forest fire raged nearby, Abram fought bravely to keep the fire away from his home and family. Afterward, he was taken ill with a chill. Before dying, he is reported to have said, "Eliza, I have planted four saplings in these woods. I leave them in your care." 
Eliza was determined to keep her family together. She sold a portion of her land to pay off debts. Eliza may have had help from her brother-in-law, Amos Boynton. It is uncertain whether Eliza was able to use her talents as a seamstress to earn money for the fatherless family (some sources say she did so). Devoted to her children, she guided them and shaped their lives with affection. Years later, her children would remember the songs she sang and the stories she told. Through her stories of Abram Garfield, she kept his memory alive. She recalled his great strength and his handsome, good looks. And, many of his traits were found in young James. She took pride in his achievements and encouraged him. When James proved to be a clever student, Eliza gave a corner of her property for a schoolhouse to be built in 1835. The Garfield children were joined by their six Boynton cousins and other neighbor children in the little log schoolhouse. 
In 1842, Eliza married a man named Alfred Belding. It has always been a mystery as to what happened to end the marriage. Belding's petition for divorce stated that Eliza deserted him a year after their marriage and refused his appeals to live with him. Eliza and her son James never spoke of the man or the marriage – and the story never came to light during Garfield's presidential campaign. But whatever reason Eliza had for leaving Belding, James still felt the anger years later. Shortly before Garfield was inaugurated, he read of Belding's death and noted it in his diary.
 
Eliza was not happy when James went seeking a job sailing the seas. He worked as a driver on the canal, traveling from Cleveland to Pittsburgh. The owner of the canal barge, the Evening Star, was his cousin Amos Letcher. Amos was the son of James' Aunt Polly, the sister of Abram Garfield. Working the canal was the lowest form of being a sailor. And James didn't know how to swim! His own account states that he fell into the canal 14 times during the four trips he made! He became ill, suffering from a fever and the ague, and was taken home by another cousin, Charles Garfield - Uncle Thomas' son.  Eliza nursed James back to health and encouraged him to go to school, rather than return to canal life.
In 1853, Eliza sold the farm to her brother-in-law, Amos Boynton. After Eliza gave up her home, she would sometimes stay with Hitty or Mary. But more often, she was with James and Lucretia. She wrote glowing letters to nieces and other family about how well taken care of she was, including the mention of a fine fire grate (fireplace) in her room and lovely mahogany furniture. During the campaign of 1880, Eliza told her stories of raising a family in a log cabin to the reporters. The whole country got to know "Grandma Eliza" through the news reports. Eliza was proud to be the first mother to see her son inaugurated in-person. James honored his mother in his first act as the 20th President by "leaning over and giving his dear aged Mother a kiss." Eliza attended all the inaugural activities of the day. Living in the Executive Mansion (White House), too, was an honor. 
While living in the White House, word came at the end of June that Uncle Thomas Garfield and cousin Cordelia Boynton Arnold had been involved in a carriage accident. Their buggy had been struck on the passenger side by a train in Warrensville, Ohio; Uncle Thomas died immediately. Cordelia died of her head injuries a week later. Eliza returned to Ohio from Washington, D.C. for the funerals. She stayed with Hitty in Solon. That is where she learned that an assassin had shot James. He sent her one letter – the only letter he wrote during the days that he lingered. What a devastatingly sad day it was when her beloved son James died on September 19, 1881.
Eliza continued to live with Lucretia and the children after her son's death, becoming particularly close with the oldest, Hal. She became ill in the fall of 1887. Lucretia, Hal, and Mollie were in Europe at the time of her death on January 21, 1888 at "Lawnfield" in Mentor, Ohio. James R. sent word that the end was near, but that they should not shorten their trip to come home. Thomas came from Michigan to visit his mother during her illness, and Hitty spent time at "Lawnfield" caring for their mother. Eliza was 86 years old when she died. Her funeral took place in the parlor of the Garfield home, the portrait of her painted by Caroline Ransom at the foot of her casket.
Eliza was temporarily interred in the Garfield Monument at Lake View Cemetery in Cleveland, Ohio when it was completed in May 1890. She now rests in Roselawn Cemetery, Solon, Ohio, beside her husband, Abram.
Last updated: July 31, 2020