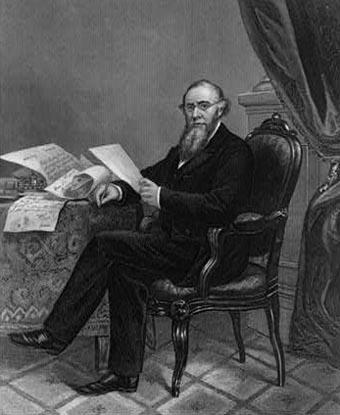 Significance:
Secretary of War for the Lincoln and Johnson administrations
Place Of Birth:
Steubenville, OH
Date Of Birth:
December 19, 1814
Place Of Death:
Washington, DC
Date Of Death:
December 24, 1869
Place Of Burial:
Washington, DC
Cemetery Name:
Oak Hill Cemetery
"Now He Belongs to the Ages." - Secretary of War Edwin M. Stanton on Lincoln's death, April 15, 1865
Edwin M. Stanton was born in 1814 in Steubenville, Ohio, the oldest of four children. He attended Kenyon College and went on to become a lawyer in Ohio, Pennsylvania, and Washington, D.C. before being appointed U.S. Attorney General in 1860. Stanton was known for his tenacity and antislavery political views.
At the start of the Lincoln administration Stanton resigned from his post as Attorney General to serve as Secretary of War Simon Cameron's legal advisor. However, Cameron and Lincoln did not agree on strategies for the war, and after Cameron suggested arming freed slaves to serve in the Union army he was dismissed. Unaware of Stanton's role in this proposal Lincoln appointed Stanton to the post of Secretary of War in 1862.
The Maryland Campaign began just a few short months after Stanton took on the role of Secretary of War. In this role Stanton was aggressive but effective, known to throw his weight around to pressure action from politicians and military leaders. Though his forcefulness made him unpopular, Lincoln stood by Stanton, once calling him "the rock on the beach of our national ocean against which the breakers dash and roar."
On April 15, 1865 when Stanton arrived at the Preston House, where President Lincoln passed away following his mortal wounding at the hands of John Wilkes Booth, it is thought that Stanton said of Lincoln "now he belongs to the ages." Stanton would continue to serve as Secretary of War during the Johnson administration, however, his service to Johnson was fraught with conflict. Stanton did not agree with Johnson's more relaxed Reconstruction policies which allowed the Southern states to rejoin the Union without guaranteeing rights for African Americans. When Johnson attempted to remove Stanton from office the House initiated the impeachment of Johnson, arguing that this action violated the Tenure of Office Act. Johnson escaped impeachment by one vote in the Senate, and Stanton remained in his post until 1868.
Last updated: November 11, 2018