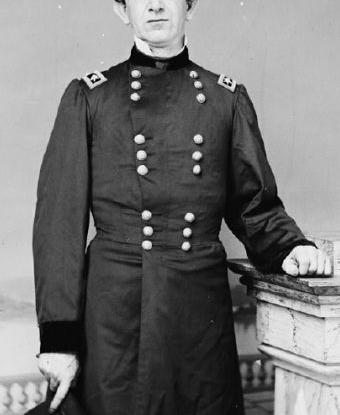 Significance:
Union general
Place Of Birth:
Piatt's Landing, KY
Date Of Birth:
November 9, 1817
Place Of Death:
near Tule Lake, CA
Date Of Death:
April 11, 1873
Place Of Burial:
Indianapolis, IN
Cemetery Name:
Crown Hill Cemetery
Edward Richard Sprigg Canby was born in Kentucky in 1817. After graduating from the U.S. Military Academy at West Point in 1839, he saw action in both the Seminole War and the Mexican War. At the outbreak of the Civil War, Canby was appointed commander of the Department of New Mexico where he successfully prevented Confederate forces from occupying the New Mexico Territory by defeating them at the Battle of Glorieta Pass on March 28, 1862.
As a result of this important victory, Canby was promoted to brigadier general and sent to the east. Following a clerical assignment, he was named commanding general of New York City in the wake of the draft riots in July 1863. In May 1864 E.R.S. Canby was promoted to major general and assigned command of the Military Division of Western Mississippi. In this capacity, Canby oversaw the capture of Mobile, Alabama in April 1865 and accepted the final surrenders of the war by Confederate forces in May 1865.
After the Civil War, Edward Canby served as commander of various military departments in Louisiana, North and South Carolina, Washington, Texas and Virginia. Canby remained in the army until April 11, 1873, when, while commander of the Department of Columbia, he was assassinated by negotiators of the Modoc tribe during peace treaty negotiations. He was the only general officer killed during the Indian Wars.
Last updated: June 18, 2015