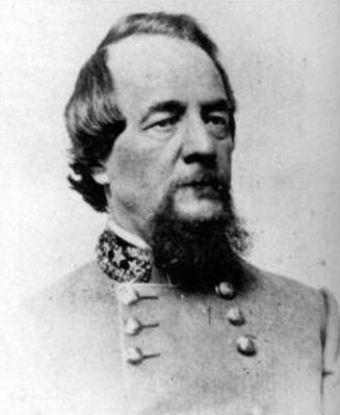 Quick Facts
Significance:

Confederate major general

Place Of Birth:

Midlothian, VA

Date Of Birth:

April 16, 1816

Place Of Death:

Richmond, VA

Date Of Death:

March 2, 1873

Place Of Burial:

Richmond, VA

Cemetery Name:

Hollywood Cemetery
Edward Johnson, nicknamed "Old Allegheny," graduated from West Point in 1838. He was brevetted twice during the Mexican War and was awarded a sword by the state of Virginia for his actions in that conflict.

After the firing on Fort Sumter in 1861, Johnson resigned his U.S. Army commission and was appointed colonel of the 12th Georgia Infantry. He commanded an oversized brigade of six regiments during Battle of Allegheny Mountain in western Virginia, for which he was promoted to brigadier general and received the nicknamed "Allegheny" Johnson.
He led a brigade in the 1862 Shenandoah Valley Campaign, where he was severely wounded in the ankle during the Battle of McDowell and spent the next year convalescing in Richmond. Promoted to major general in February 1863, Johnson led "Stonewall" Jackson's old division at Gettysburg and during the 1864 Overland Campaign where he, along with most of his division, was captured defending the "mule shoe" salient during the Battle of Spotsylvania Court House.

Upon being exchanged, he led a division of Stephen D. Lee's corps in John B. Hood's Tennessee campaign. He was again captured during the Battle of Nashville and would not to be released until the end of the war. Following the war, he retired to a life of farming Chesterfield County, Virginia until his death in 1873.
Last updated: June 18, 2015