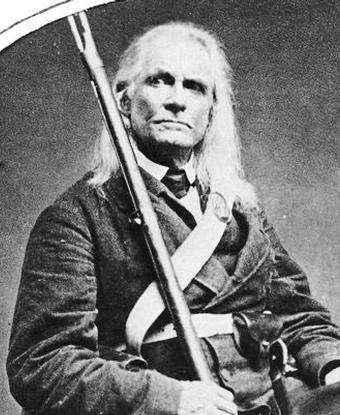 Quick Facts
Significance:

Slaveholder, planter and writer

Place Of Birth:

Prince George County, VA

Date Of Birth:

January 5, 1794

Place Of Death:

Amelia County, VA

Date Of Death:

June 15, 1865

Place Of Burial:

Hopewell, VA

Cemetery Name:

Marlbourne (Ruffin family estate)
Edmund Ruffin was a slaveholder, planter, agronomist, writer and Southern nationalist who was present at both the execution of John Brown in 1859 and the attack on Fort Sumter in 1861. In essays composed for Skinner's "The American Farmer" and his own "Farmers' Register," Ruffin first achieved prominence as an outspoken advocate for southern agricultural reform. In 1832, he published "An Essay on Calcareous Manures," an influential book that advocated the application of marl to reduce soil acidity. This practice is credited with the restoration of countless southern plantations whose soils had been made worthless by continuous tobacco production.

As the 1840s gave way to the 1850s, Ruffin's interests shifted from agricultural to political reform. Motivated to preserve the Southern way of life, he became one the nation's most prominent advocates of slavery, state's rights and secession. In his 1860 book "Anticipations of the Future, to Serve as Lessons for the Present Time," Ruffin predicted civil war would come in 1868 with the re-election of the hated William H. Seward; that the first shots of that war would be fired at Fort Sumter; and that the South would be victorious.

Devastated by the Confederacy's loss, Ruffin made a last entry in his diary on June 17, 1865, which read "And now with my latest writing and utterance, and with what will [be] near to my latest breath, I here repeat, & would willingly proclaim, my unmitigated hatred to Yankee rule--to all political, social and business connections with Yankees, & to the perfidious, malignant, & vile Yankee race," and then shot himself to death.
Last updated: September 14, 2017